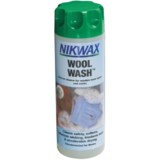 Closeouts. An excellent choice for merino wool, wool socks and wool base layers, Nikwax' Wool Wash safely cleans, softens, freshens and enhances moisture-wicking abilities of woolen apparel and accessories.
Average Rating based on
46
reviews
4.500000
0
5
Verified Buyer

Reviewed by DK from Upstate NY from Upstate NY on Wednesday, January 4, 2017

works well with any wool. does not ruin an item.

Verified Buyer

Reviewed by leoskypilot from Ca on Wednesday, December 14, 2016

Nikwax makes good products and being on sale is great

Verified Buyer

Reviewed by DirtWalker from California on Monday, November 21, 2016

But for the price I couldn't pass up on it. I usually just use horse shampoo and conditioner but it would be nice to test this out. Wool is pretty picky so I'm sure a product designed just for it will be a joy to use.

Reviewed by Jacobo Peterman from NYC on Tuesday, October 4, 2016

Love wool but it can be finicky to clean without shrinking or damaging the fabric. This is good to use as opposed to the usual detergent. Kind of expensive and you're only going to get 1-2 washes out of this. About the size of a sofa can. Still better to take care of expensive woolens than risk damage.

Verified Buyer

Reviewed by runsalot from co on Wednesday, August 31, 2016

Love the way it makes the garment soft without giving them that 'sticky' feeling. It does not make the clothes smell perfumed.

Verified Buyer

Reviewed by Josh from New Jersey on Tuesday, May 3, 2016

If you have wool socks or baselayers this is a must. I wore a wool baselayer in May over an entire hiking weekend. I smelled horrible. My shirt. Still smelled like this wash.

Verified Buyer

Reviewed by Josh from New Jersey on Wednesday, February 24, 2016

If you have wool base layers or socks. This product is a must. Wool is naturally anti-microbial, this product helps refresh that ability. I have been using it for years, and adore this product.

Verified Buyer

Reviewed by Newbie Backpacker from Ohio on Monday, May 25, 2015

We love icebreaker gear so we have a lot of wool clothing, from underwear to jackets to cycling jerseys and bibs. This protects and softens these items. It does have a unique smell that we kinda like, and it works. We use it all the time.

Reviewed by Neophyte Runner from Minnesota on Tuesday, April 21, 2015

Nikwax has a very chemically smell. Even though Woolite smells like a wet dog (that's the lanolin), I prefer it to this product hands down.

Verified Buyer

Reviewed by Smartwool's No.1 Fan from AR on Monday, March 23, 2015

Wow, really puffed up all my Smartwool gear, which had only ever been washed in detergent. Should be even warmer now that the fibers can trap more air, and last longer b/c no doubt a wool wash is a gentler product..