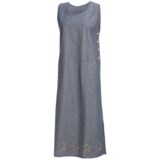 Closeouts. Layer Nina Capri's embroidered jumper with your favorite turtleneck or T-shirt -- and bring out the floral embroidery on the hem by choosing a shirt in a hue that matches the threads!
Average Rating based on
39
reviews
3.333333
0
5
Reviewed by InTheWoods from New Hampshire on Friday, May 16, 2014

When I ordered this I chose it specifically because it was cheap and I thought it would be a good house dress to beat around in at home during the summer months. So I wasn't feeling very picky and assumed I'd have no complaints, but this thing is a mess. I got the blue & white checkered one. Firstly, it's HUGE, it's like wearing a tent. I ordered a medium (I typically take a size 8 dress) but this looks more like a size 14-16 if you ask me. Also, the material is very stiff. I washed it and line dried it and it's a mess, very stiff, very wrinkled and the hem crinkled and turned up all the way around. I refuse to iron a house dress - the wrinkles wouldn't matter so much if the fabric weren't so stiff. I saw some reviews saying it's great out of the dryer - maybe so, but I line dry all my clothes in the summer (when I would wear this dress) to save money and energy. I seriously couldn't imagine having any complaints with something to wear at home when no one sees me, but it's just so stiff and huge. I may put it in the dryer one time to see if I can at least shrink it a little, but I'm not thrilled with this at all and will probably end up re-purposing the material for a craft project.

Reviewed by Sherri, chief cook and bottlewasher from Oklahoma on Friday, December 27, 2013

Okay, so maybe I look a little like my grandma in this jumper, but who cares. My grandma was cute and this thing is comfortable. It has large pockets, large enough for two eggs each. The fabric is a nice heavish, but breathable cotton. No special washing instructions, which is always a plus. It came out of the dryer practically wrinkle free.

Reviewed by frankie from Massachusetts on Thursday, September 26, 2013

This jumper was a nice quality cotton- and well constructed but the sizing was extreme. I bought a medium and it was huge.

Reviewed by Lather and Rinse from Northern California on Wednesday, September 18, 2013

For just a few dollars, this is a great work-at-home or work-in-the-garden dress. It might not be fashionable, but it's very sweet in its own way. The fabric is nicely woven and substantial -- not at all sheer or flimsy. Comes out of the dryer beautifully.

Reviewed by Steve from Ct on Monday, August 26, 2013

I gave this as a gift, and I haven't heard anything.

Reviewed by dcm from PA on Thursday, August 15, 2013

If you are a medium order a medium and wash and dry it. It will shrink. It's a basic plain dress to run errands. It's comfortable not glamorous.

Reviewed by Beckylynn from WI on Tuesday, July 30, 2013

I gave this a 3 star because of it's appearance. I give it a 5 for comfort. It's very simple straight old fashion dress. Good for a house dress or good for

farmers market shopping. Runs a bit big.

Reviewed by Western rider from New York on Friday, July 26, 2013

This was a fantastic price here so I took a chance and ordered the dress. The pattern is cute with nice embroidery detail. It is a bit loose (I bought a medium) but I can use a belt with it if I wanted to. It isn't the most flattering, but it is comfortable.

Reviewed by Nanibi from NY on Tuesday, July 16, 2013

The style may be a bit dorky, but the fabric is sturdy cotton, the fit is loose, and the few wrinkles after washing ironed out easily (may not bother again). I haven't worn it yet but think it may need a T-shirt or tank underneath, or nothing at all.

Reviewed by Mama Bear from Illinois on Wednesday, July 10, 2013

This jumper is made of quality cotton in a simple style and classic check. The fabric pattern is interesting and lovely. However the large (12-14) is closer to being sized for 18-20. I tried to take it in, but the fabric may end up in a sewing project or quilt instead. The fabric is very good, but I wish the sizing had been more accurate. (The price was too good to pass up, but also too low to pay additional for returns.)

Reviewed by Cha Cha from Indiana on Thursday, June 27, 2013

Really like the ease of this jumper and the embroidery at the hem is very quaint

Reviewed by Tia from NJ on Thursday, June 20, 2013

I liked the dress in the picture. When I got it, it was big. So, I'm planning to shrink it by throwing it into the wash and dryer. Overall, the dress was not a disappointment for the price. I could not find jumpers anywhere, so I'm pleased I found this one.

Reviewed by Pixell8ted from Livermore, CA on Friday, May 31, 2013

Nicely made of natural materials, soft and easy to wear.
Even better, the closeout price! What a deal!
It's quick and easy and looks better than a tent or muu-muu!

Reviewed by Jana B. from Black Hills, SD on Thursday, May 30, 2013

There's a reason this jumper was so darned cheap. The arm holes hung way down, exposing what was underneath. It was ridiculously long on my 5'6" frame. This is a dowdy dress. If you are into dowdy, buy it.

Reviewed by Disappointed shopper from MI on Wednesday, May 29, 2013

I wouldn't say this fits like a tent as other reviewers, but it does run a size bigger than stated; the shape is just what this style is like... straight w/o any shaping to it. Should be a nice basic summertime casual jumper which is what I wanted it for. The checkered jumper has no embroidery...disappointed in that.

Reviewed by Anonymous from Southern Arizona on Friday, May 24, 2013

Indeed, the dress seemed quite big on arrival. After a warm water washing, however, at least for my wide and very tall frame, it shrank down to size. Sadly, it also shrank quite a few inches in length (initially, at the low part of my calf , now, a few inches below the bottom of my knee.) After the wash, at least for me, the armholes also shrunk and now there's no need for a tank or cami underneath. It's not elegant, but a good at-home and in the 'hood dress for hot days.

Reviewed by BassyMom from North Carolina on Wednesday, May 15, 2013

I will not be using this as a jumper, but rather as a cool, summer dress. The material is thick enough to wear without a slip and since it is cotton, it will breathe! I will use it as a house dress or for shopping trips. I purchased the blue and white checked version ( which incidentially DOES NOT have embroidery at the hem as the description states) and the denim blue version which does have embroidery along the bottom. I agree with other reviewers that this dress runs large. I am a size 14 and ordered a medium which fits fine. I'm sure these will wrinkle and I'll hang to dry since they are cotton and might shrink! The fact they are cotton is the main reason for purchasing them! I wanted cotton for it's breathability here in the humid, hot south!

Reviewed by Tkachenko Mihail from Pennsylvania on Wednesday, May 8, 2013

It was bought for carrying in the house. Convenient dress for not so hot weather

Reviewed by Colleen from Pa on Saturday, May 4, 2013

great dress, so comfortable to wear when its warm out

Reviewed by gracie1 from fl on Friday, May 3, 2013

Also not attractive...will keep because it was not expensive, but only as a swim suit cover up. Would not wear it out in public.

Reviewed by Sue from Albany, NY on Monday, April 15, 2013

I bought this dress with the idea that it was simply a comfortable summer weight dress to wear to work with a cardigan. It is perfect.

Reviewed by Tonkasmom from MA on Friday, April 5, 2013

Got this for something to throw on around the house or run to the store in. There is very nice embroidery around the bottom that does not show in the picture and it washed well. Sizing is generous - I got the XL and it was even a little big but it is fine for what I wanted and the price was unbelievable.



Reviewed by Sally Homemaker from Arizona on Monday, March 25, 2013

I bought this hoping it would be a basic cotton jumper that I could wear around the house in the summer and I can say that it will work out just fine. The fabric was a little rough, but it softened up once washed and dried. Also the sizing is a bit large, but again, once through the washer/dryer and it shrunk up some - still loose fitting but not terribly large and I am a very thin 5'7" tall woman.



Reviewed by Lynn from NV on Tuesday, March 19, 2013

Great jumper, but the only thing is the light blue one pictured shows NO embroidery in the photo, but when it arrived it has red and yellow embroidery along the hem line in the front.

Reviewed by Carole from queens, ny on Sunday, March 3, 2013

The dress was very cheap but still not worthwhile. It's scratchy and stiff after washing. I don't think I will ever wear it but maybe one of my sisters will. I want soft, comfortable fabrics.

Verified Buyer

Reviewed by NVH from Thousand Islands area of NNY on Saturday, January 26, 2013

Nothing special but functional for the money.

Reviewed by judyirene from Pennington, NJ on Wednesday, January 23, 2013

I hate to iron. I washed this and dried in the dryer, taking it out early enough but it is very wrinkled. I am not happy with this purchase.

Verified Buyer

Reviewed by Thrifty Orchid from USA on Monday, January 21, 2013

Size S has a 40" bust. In no way would I describe the fit as "classic"—which Sierra Trading Post's sizing chart describes as semi-fitted—as the shape is rectangular or slightly triangular from top to bottom. The fabric is rather stiff and light- to medium-weight (further contradicting the alleged "classic fit," as it simply billows out), but I do not know if it would have softened after washing. Aside from the sizing, the jumpers (which I purchased in both denim and blue plaid) are cute and casual, and I did not notice any flaws such as loose stitching or ripped seams. Unfortunately, they were far too large with a cut that would have been difficult to alter (due to the pockets and the side buttons), so I returned them.

Verified Buyer

Reviewed by philly phan from Philadelphia, PA on Wednesday, January 2, 2013

reading previous reviews, i expected exactly what i got -- a very inexpensive jumper that would not feel good but could be an alternative for jeans when doing outdoor gardening -- in summer conditions it will offer the coolness of a dress but so inexpensive that mistreatment with dirt, water, etc will not be a problem

Verified Buyer

Reviewed by L. from Chicago, IL on Tuesday, December 25, 2012

I ordered two of these jumpers. One was well constructed, the other had white paint across the front. The dresses are cute but be prepared to send them back if flaws are obvious.