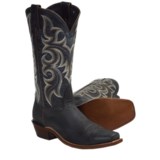 Closeouts. Still making boots to meet your great grand daddy's expectations, Nocona presents the Vintage Kangaroo cowboy boot, handcrafted to perfection in the USA from extra-fine leather, with unequaled comfort and arch support.
Average Rating based on
14
reviews
4.428571
0
5
Reviewed by Jen Jen from illinois on Saturday, December 14, 2013

I'm a lady that wears a 9.5 in ladies' Nocona boots. Ordered the men's 8 and the fit is perfect. These are an unusual boot--the kangaroo leather is a flat charcoal while the uppers are a polished black. Breaking in was a breeze as they loosen up within minutes of wear. Craftsmanship is quality. Can't beat the STP price.

Reviewed by Dave, the uncowboy from Kansas on Sunday, October 20, 2013

These boots are comfortable and well made. They are great looking too.

Reviewed by Cadillac George from gcgiftos@utmi.net on Saturday, September 21, 2013

I just read a review in which the reviewer stated that he ordered 1/2 size smaller than he usually takes and they were too small. I also ordered 1/2 size smaller than normal and they fit well. They are somewhat snug, but they are snug in the area in which they will stretch to fit properly. I worry about my high instep and usually don't order western boots on-line, but there are no more local sources for western boots so I thought I'd give these a try. They are a bargain at this price. Well-made, although not made with the arch that most higher-end boots have....the ones made with lemonwood pegs, but they are comfortable. I do like the cushioned insole and hope that it holds up well. The square toe styling appealed to me as well. All in all, a great buy in a well-made western boot. After this experience, I also bought a pair of Lucchese in my normal size and they were spot-on. I would opt for Sierra's recommendation of 1/2 size smaller in these Noconas. Sierra will make it right if they don't fit, but I think you will find that they might be just a bit snug in the width around the ball of your foot. The length should be OK, and they will stretch in the width. Totally satisfied with these boots.

Reviewed by James from Texas on Sunday, September 15, 2013

I first took the advice and ordered a half size smaller than I would normally wear and my experience was like one reviewer; too small and not a good fit. I called STP and swapped out for my normal size, which arrived quickly, and they fit perfect now. This boot is made very well and I have many pairs of boots, probably too many but hey; good boots feel great. One final thought would be to keep in mind that some skins tend to heat up and relax as you wear them and this Kangaroo seems to be like that to me. Great boot in the end and I am very happy with the price point and boot quality.

Reviewed by LPCs from UT, NV, and sometimes WY on Saturday, July 6, 2013

Nocona makes about the best classic western boot you can find, absolutely top quality. The kangaroo leather is as advertised, soft and tough. The stitching on the vamp and foot is real careful. As with my other Noconas, they're about a half size large and a little narrow, but not uncomfortably so.



Reviewed by WaterDog52 from Washington on Monday, May 6, 2013

I typically wear Nocona boots and own several pairs of 10D which fit perfectly. Ran across these and thought they looked like a great find. Ordered quickly and product arrived in 3 days. Boots were better than expected...pictures featured online do not do them justice. Unfortunately, these boots did not fit like all my other Nocona 10D boots. Fit was extremely narrow, to the point I couldn't get my foot in the boot. Had to send them back.

Reviewed by Tony from Connecticut on Sunday, May 5, 2013

Great pair of boots-- had to return the first pair due to defect in heel causing a click. Having said that, Sierra was awesome to deal with and made the return/exchange as easy as could possibly be. I ordered 1/2 size down--I'm a 10 1/2 in virtually all shoes-- and it was the right decision. Always wanted a quality pair of boots, and Nocona's are just that, and for the price they can't be beat. Realize that many "comparable" boots that are much cheaper are made in.....you guessed it- China. These are U.S. made.

Reviewed by Professor from CO on Friday, March 29, 2013

Went with the recommendation of 1/2 size down. Fit perfect, very comfortable right out of the box. Toe not too square, classic look. Nocona boots are excellent. STP great value.

Reviewed by CW from Wyoming on Friday, March 15, 2013

Love 'em, fit like a glove on my slightly narrow, slightly flat feet. The leather is a matte tone, and has a grain and pattern to it that you can't really see in the photos.

Reviewed by JK from Ventura County, CA on Wednesday, March 6, 2013

I wear a 13 so as suggested I ordered a 12. It fits as if it was custom made. This is an extremely good looking boot. It radiates quality without being flashy.