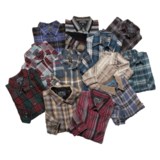 Closeouts. Northwest Blue's 3-pack brawny knit shirts are great for the cost-conscious man. Coming in a variety of colors and patterns, this midweight shirts offer extra warmth on cool days.
Average Rating based on
40
reviews
3.100000
0
5
Verified Buyer

Reviewed by Matt from Oregon on Wednesday, October 14, 2015

These are definitely seconds, the buttons on one of the 3 shirts stop midway down the shirt. They seem to be of decent quality materials and stitching though, and seem like they'll hold up to some wear and tear. I received a mix of heavy to light-weight shirts, and am happy to sew a few buttons for this deal.

Verified Buyer

Reviewed by Yukon Kid from PA on Monday, September 28, 2015

These shirts are heavy flannel and are great !!!! But they run a size larger than stated --so 2XL people order a 1XL and they will fit even after they are washed !!!!!!

Verified Buyer

Reviewed by eatoutking from Florida on Wednesday, September 23, 2015

The shirts were bought as a gift for a friend. The shirts look great and the price is very good. I can always count on quality items for gifts from Sierra Trading.

Verified Buyer

Reviewed by pat from st louis MO on Monday, September 21, 2015

I was disappointed in this package.. There were three shirts and they were all nice. I ordered medium size and they were all marked medium. One of the three was very small and should not have been marked medium, I could not get it on. Another one was very heavy more like a jacket but it was the right size. The 3rd one I absolutely love. I was told I could return the three and reorder but since they come in a three pack I could not just get two more like the one I liked and I may not like the three I get in the new package. Since it was going to cost me $6.95 to return the package, I just decided to keep the one I like and donate the other two to charity.

Verified Buyer

Reviewed by Northeast Man from New York on Monday, September 21, 2015

I think these shirts were all seconds which is why they were offered in packs. I returned them. One had very short sleeves, another a very short body and I didn't even bother opening the third. I guess you do get what you pay for. we returned them.

Verified Buyer

Reviewed by MoMo Sandra from Kentucky on Saturday, September 19, 2015

We were very pleased with the flannel shirts. They were in heavier fabric and the colors are great. We are very satisfied.

Verified Buyer

Reviewed by ResearchShopper from FL on Friday, September 18, 2015

I like to wear this type of shirt for outdoor work or for a lightweight covering for cool mornings indoor. . I was pleased with the assorted colors that were given, nothing "weird" for a work shirt. 100% cotton, they seemed to fit normal after one wash. One had a tight plaid pattern of gray, green and a little red stripe with a washed out look, one was a buffalo plaid with red, black, and ivory, looks very nice. The other was a buffalo plaid with blue and black and came with snaps like a cowboy shirt - but I liked that too and the snaps might be an improvement. Overall, a good value for something that I might tear or stain on the next job, so I'm happy I purchased them.

Verified Buyer

Reviewed by FLskier from St Petersburg on Saturday, March 14, 2015

The best I can put it is that every shirt in the pack has its own unique problem. These shirts are 4th or 5th's at best.

Verified Buyer

Reviewed by FLskier from St Petersburg on Wednesday, March 4, 2015

Read reviews ordered two sizes up, but that was not just big, but way too big. Weak on quality and cut, because each shirt is different. Exchanged it for one size down and haven't received them yet, so stay tuned!

Verified Buyer

Reviewed by NYCRichard from New York City on Thursday, February 26, 2015

Out of this 3-pack, one shirt was great, another okay, but the third was defective and ridiculously unwearable--the arms were far too short for a medium-sized shirt, ending just a little way past the elbows. If seconds are products with minor flaws, this was a fourth or a fifth. I don't expect everything in a value-pack to be glorious perfection, but this was unacceptable. I've sent the unwearable shirt back. I don't know howl Sierra will deal with a single item out of a multiple-pack. We'll see what happens.