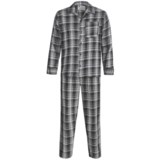 2nds. Northwest Blue's flannel pajamas are made of lightweight cotton flannel that both breathes and holds warmth close for soft comfort in a variety of temperatures.
Average Rating based on
36
reviews
2.166666
0
5
Verified Buyer

Reviewed by Miles from Philly on Wednesday, December 31, 2014

Did not know they were seconds. Read carefully before ordering

Verified Buyer

Reviewed by Mom Christmas Elf from Michigan on Wednesday, November 26, 2014

Can't wait to give these as a Christmas present!

Verified Buyer

Reviewed by Durhamite from NC on Monday, November 3, 2014

These are thin and ragged. After 1 wash they were sent to good will. Not work the money.

Reviewed by mph from long island, ny on Wednesday, March 12, 2014

I purchased XL which is his usual size. After washing, they fit me and I'm a woman's medium. Not a total loss, then!

Reviewed by wanda from georgia on Sunday, March 9, 2014

ordered mens xlarge,,, bottoms worked for med-large man,,, but top was so small, equal in size to women's small-med,,, so top hit the donation bag

Reviewed by Jules from Utah on Monday, February 24, 2014

Bought four pairs for my sons. The fabric was thin for a flannel but the fit was fairly good for slender men. The plaid was not matched well. If you sleep with your eyes closed under a big blanket, my objections wouldn't matter at all. Would not buy again; I buy flannel for warmth. This brand didn't meet the grade.

Reviewed by BeautifulDreamer from Colorado on Monday, December 23, 2013

The 'flannel' is thin. My husband likes it in the warm house.
Would not do for camping.
He is 6'3" and weighs 175 lb.
The 2XL is good for a string bean of a guy.
The shoulders are the skimpiest part.
The legs are long enough for a 34 inseam.

Reviewed by shufits from San Diego, CA on Wednesday, December 11, 2013

These pj's were way too small to begin with. Super thin fabric and loose weave. I considered washing and using them for myself instead of the initial intent of my husband but didn't want to take the chance of them falling to shreds.

Reviewed by Tibor from St. Paul on Saturday, December 7, 2013

Ordered two sets. After washing once, the stitching in both sets came out leaving holes in both the shirt and pants. Returning

Sizing in other reviews seems accurate- I'm usually a medium and ordered a large. Fit seemed about right

Reviewed by bl_bob from Ca on Saturday, November 30, 2013

See above

Reviewed by Tennessee from Tennessee on Monday, November 11, 2013

These pajamas were at least 2 sizes too small - I should have looked at the reviews before I chose this product.

Reviewed by do from Midland, TX on Tuesday, November 5, 2013

the sizing runs very small, go up 1-2 sizes. the material was nice and soft. had to return due to sizing

Reviewed by Tom from San Diego on Friday, November 1, 2013

I normally wear a L (6 foot tall, 195 lbs., 34 waist, 42 chest) and ordered XXL. After washing in warm (not hot) water, the PJ's are just a tad too small, but fit well enough to be comfortable. Probably not the best quality (all kinds of errant threads after first wash), but they are comfortable. Overall, I am happy with what I paid for them.

Reviewed by AKFletch from Homer, Alaska on Thursday, October 24, 2013

No question they're cheaply made, but of a very soft, super light, yarn dyed flannel that is quite comfy for occasional use when you're sick, or travelling where you can't walk around naked.

Reviewed by Blazer from Cheyenne WY on Saturday, October 5, 2013

They are soft, and thin, yet warm enough for kinda cold nights. I'm a big guy and ordered the XXL (usual size) and these are snug on me. I have ordered that size in different brands that fit well. I kept them because they are good enough for what I use them for, and being as snug as they are, wasn't bad enough to constitute a return.

Reviewed by Gina from Utah on Tuesday, September 24, 2013

Very very small sizes. Luckily my son is only 13. They were even more light weight than I had expected and couple of seams came apart on the first wash. However, they were not expensive and I bought 6 pair.

I would buy them again.

Reviewed by Saberjim from WA on Sunday, September 22, 2013

PJs were undersized, very thin material and a seam came apart in the first wash. Returned with paid shipping. Sierra is very good about that.

Reviewed by alla from ukraina on Thursday, September 19, 2013

the top and bottom of the normal small

Reviewed by candyandbambi from california on Tuesday, September 10, 2013

The check should be matched at least no matter how cheap it was. It s warm and comfortable and I like it.

Reviewed by uck from va on Saturday, June 1, 2013

must be 2x in Bangladesh, definitely not in this country... were even very tight on my significant other who likes wearing my normally quite baggy on her clothes

Reviewed by just plain bill from Connecticut on Tuesday, March 12, 2013

These pjs are light,fit well and are comfortable.

Reviewed by Tgem from Hancock, MI on Monday, March 11, 2013

I purchased these with low expectations as the reviews say they are cheaply made and sized too small. I purchase one size large and wish I had gone two. It didn't really matter since at the end of the first week the seam at the crotch opened up and there was a huge hole, the seam where the left shoulder meets the back opened up and also at the cuff. My wife sewed the crotch but the other seams will have to wait. I'm hoping to get another week or two out of them. The material is soft and comfortable, perhaps a little thin. I was comfortable sleeping in them.

Reviewed by Bruce Bear from Long Island on Wednesday, March 6, 2013

Very poor fit- the large may be made for a large child but is much tighter than ANY large pjs i have ever bought. I'm making do with them for this first wearing since it isn't worth the bother to return them,and i'll probably put them into my bag of clothing donation.

Reviewed by DUPED CUSTOMER from cALIFORNIA on Tuesday, March 5, 2013

Terrible product. BUTTON HOLES WERE NOT OPEN...I HAD TO USE SCISSORS TO OPEN THEM.

Verified Buyer

Reviewed by Speechy from Bristol, TN on Thursday, February 21, 2013

The pajamas were warm but the size large was too small more like a small to medium and when washed it shrunk.

Verified Buyer

Reviewed by Consumer of quality goods... from Minnesota on Wednesday, February 20, 2013

Really poor quality

Verified Buyer

Reviewed by Jerry from Maine on Monday, February 11, 2013

Very poor quality.

Verified Buyer

Reviewed by Grace from eugene on Tuesday, February 5, 2013

The pj's were priced great, except they were useless when they arrived. The material was cheap and there were threads hanging all over the place. I would have sent them back exept I would have spent more in shipping than they cost. I am trying to find someone who will take them off my hands, they will probably end up at goodwill as they are too small for anyone in my family.

Verified Buyer

Reviewed by AnnBQ from NY on Tuesday, February 5, 2013

Came with other things that were fine - kept but am afraid to wash. I'll try w/o dryer.

Verified Buyer

Reviewed by ACF from Los Angeles, CA on Wednesday, January 30, 2013

I bought 2 pairs of these, both in the same size. One was far smaller than the other, so I ended up having to return it, which was costly and inconvenient. Also, the quality isn't great. Both pairs had a lot of loose threading. I'm hoping the pair I kept doesn't fall apart.