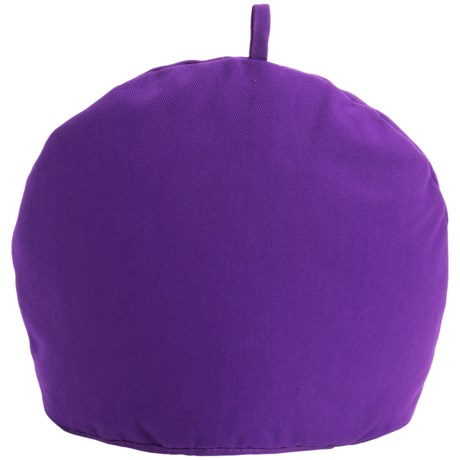 The opening is 12" long...will open to about 10" for the width and the height is 10". Not sure if that helps but I think it will fit a 6..(.8 oz cup)....teapot. I tend to use 16 oz cups and my tea pot will pour 3 fairly full cups and it fits under this cozy. This teapot has a handle on the side and it all fits. I have another teapot where the handle is a high and goes over the top of the teapot ...so in this case the cosy does not go all the way to the bottom but covers most of it.


These are really large - better fit for an 8 cup teapot. They are well made and fun colors and you can't beat the price. They could also double as a hat??

Thanks very much to the first two responders. This tells me it's too large for the pot I'm looking for. I'll have to stick to the terry towel approach.
Thanks for the clear answers. Over at Amazon, when I was trying to learn the size of a teapot, begging for ounces or cups, the concept seemed to elude the nice people happy to reply. They were all along the lines of "I like to use a nice big mug my husband gave me for our anniversary and this pot makes two servings in the morning, which is just perfect." They all used "big cup" and "average cup" as though they'd skipped fourth grade and "cup" was just a vessel, not a measure. Thanks again.

First this is a good quality item. I have a Johnson Brothers Blue Willow Tea Pot 6 cup , of course that is small tea cups. It fits over it. Maybe google pic of it to see if it works for yours. Also have 2.7 quart stainless steel boiling tea kettle and it fits over that. Great price, order a couple if not right for you makes a great gift. I love STP and have worked for them in the past, best thing I ever did. Lovely people own it and workers are great. Very fair to employees.