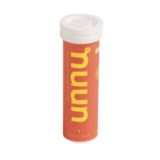 Overstock. Nuun's The Original electrolyte replacement tabs are easy to use, great tasting active hydration with no sugar and important electrolytes. They take up minimal space and recharge your hard-working body during or after a long, strenuous workout.
Average Rating based on
36
reviews
4.611111
0
5
Verified Buyer

Reviewed by JimRockford13 from Michigan on Sunday, August 7, 2016

Worked really well, added a nice flavor to our water and covered up the "fishing" smell that my girlfriend noticed in the filtered lake water. Did notice that they built up a little pressure in a sealed water bottle.

Verified Buyer

Reviewed by Hollis from Cleveland, OH on Thursday, June 9, 2016

These are nice and extremely portable. I'm normally just a water drinker, but I thought these tabs were a nice compromise between water and a typical sports drink. It wasn't overly sweet or concentrated and was even a little effervescent, which was a nice treat!

Verified Buyer

Reviewed by Dream Hiker from California on Thursday, May 12, 2016

I like the taste of these Nuun tablets, and they do help me drink more. Seems to do a good job providing electrolytes as I haven't had any electrolyte imbalance issues after I started using these. They are a bit spendy, but I do recommend them.

Verified Buyer

Reviewed by anekmp from ann arbor on Thursday, May 21, 2015

husband loves this.

Reviewed by honeybee from NY state on Sunday, April 26, 2015

These are a great product for runners, sports or general hydration but you can get these much cheaper at Vitacost or Amazon, both in single tubes and boxes of 6 or 8 at a deep discount. I've never seen STP sell any product at the retail price, and I hope it's not a trend.

Verified Buyer

Reviewed by DonnaGal from Erie, Co on Tuesday, November 4, 2014

portable, low sugar way to rehydrate after long days playing in the desert

Verified Buyer

Reviewed by Connie from Cincinnati on Monday, October 6, 2014

Am a faithful customer of this product as it works fast and is not crammed with sugar - has none at all

Verified Buyer

Reviewed by Dancefaery from San Francisco Bay Area on Thursday, September 18, 2014

I have these tablets in my emergency bag, and I use them weekly for hard workouts. They even came in handy during a severe case of food poisoning! Some of the flavors taste better than others, but since I know they are effective electrolyte replacement, I chug past the taste!

Verified Buyer

Reviewed by dillyrose from michigan on Tuesday, September 2, 2014

Did not like the fruit punch flavor

Verified Buyer

Reviewed by AB from Washington State on Wednesday, June 4, 2014

I drink one of these for each of my soccer games because I have problems with leg cramps. They haven't seemed to help with my cramps, but they taste good and I'm still giving them a shot. Better than having a Gatorade, that's for sure.