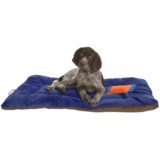 Overstock fabric. Your four-legged friend will love snuggling into this large, plush OllyDog dog bed. It may even be enough to lure him away from that particular spot on the couch you always seem to be competing for.
Average Rating based on
199
reviews
3.562814
0
5
Verified Buyer

Reviewed by Matt from New York on Tuesday, September 2, 2014

This bed is thinner than I anticipated, but nice looking and seems like it will wash easily in machine.

Verified Buyer

Reviewed by perception challenged from Montana on Thursday, August 21, 2014

I obviously did not read the dimensions for this bed--it is WAY too small for my dog. Also, it is more like a plush blanket than a bed. A lot of money for what I got. I will measure dimensions next time.

Reviewed by telern from Front Range, [...] on Thursday, April 3, 2014

This is a fairly nice bed. Yes it's thin. I think as dog owners we all want our pets sleeping on the loftiest beds around. But for under $30 with a coupon, you're getting a soft feeling bed from OllyDog at a decent price. As far as washing, I washed mine in a front loading washer and there were no balled up beds at the end. Ella's bed lives in the kennel and she's yet to give me any disapproving looks when laying on it.

Reviewed by mountain mama from Four Corners on Tuesday, February 25, 2014

I got this for my larger dog, it's about the right size for my fifteen pound long and big cat. It is not nearly as thick as pictured. Makes a nice "mat" to catch hair but not very comfortable for an older dog. I'd pass on this one.

Reviewed by myview from Colorado on Friday, January 24, 2014

This is a nice dog bed, but I wouldn't call it large. Medium would be more accurate. We have a Springer Spaniel and it's perfect for him. Great to use at home or on the floor of our Subaru wagon. Not thick & puffy, but has plenty of padding for comfort.

Reviewed by hikerliz from Denver, CO on Friday, January 24, 2014

I like these beds. They fit easily in the washer and are well-constructed.

Reviewed by Doug from Virginia on Monday, December 9, 2013

Only thing my dog will lie on besides my bed. Second one I've had. First one balled up after washing and could not separate fluff inside it after washing. I would not recommend laundering at home.

Reviewed by Marley's mom from Albuquerque on Wednesday, August 28, 2013

These are tough beds. I have labs that will destroy kennel beds in minutes. Not these.

Verified Buyer

Reviewed by Mia from Colorado Springs on Friday, January 25, 2013

Should have listened to reviews. Way too small for a medium (50lb) dog. I'd recommend but make sure you get the right size!

Verified Buyer

Reviewed by Redfish from Cincinnati, OH on Tuesday, January 8, 2013

This is a nicely made bed but not as full as anticipated. Ordered a large but not at all big enough for my dog. I would consider the size more of a small-medium.