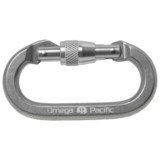 Closeouts. Made in the USA of ISO cold-forged aluminum, Omega Pacific's Flat-Sided Oval Screw-Lock carabiner shares the load equally between the spine and gate sides without sacrificing strength.
Average Rating based on
22
reviews
4.681818
0
5
Verified Buyer

Reviewed by Stoney from Leavenworth, WA on Thursday, October 22, 2015

I havent used this a whole lot but its sturdy and easy to use. Screw gate doesn't get stuck and I like this shape biner for belaying.

Verified Buyer

Reviewed by Rick from Minnesota on Saturday, September 26, 2015

Very strong, good looking. With coupon it was a great deal.

Verified Buyer

Reviewed by Chris C. from Indep. Mo. on Thursday, September 17, 2015

Well made and secure...just what I wanted! Purchased for tree stand harness.

Verified Buyer

Reviewed by bill from folsom, ca on Friday, August 14, 2015

for a locking carabiner these are a great deal.

Verified Buyer

Reviewed by Rockup from CA on Wednesday, August 12, 2015

What can I say? These are solid 'biners. They're not ultralight, but they're not too heavy either. The screw mechanism works and I find that oval carabiners are really useful for many climbing applications, as well as in building pulley systems. An excellent value!

Verified Buyer

Reviewed by RichD from Washington on Thursday, May 28, 2015

I'm not a climber but caribiners have so many uses. I carry them in my backpack and use them for gear hangers. Wanted something better than the cheap China caribiners that are available at the big box stores - these sure fit the bill! These are solid built but light in weight so I don't mind throwing them in my pack. Many times I use them to clip of gear to my pack or hang my pack from a rope to keep it off the ground and using a caribiner is very convenient.

Verified Buyer

Reviewed by AnnaLaurie from Arizona on Tuesday, April 21, 2015

just a decent carabiner -- not much to say from me, since my use is not for anything extreme -- just camping/hiking uses

Verified Buyer

Reviewed by CO_OG from Colorado on Tuesday, March 10, 2015

This is a nicely shaped oval locking carabiner. It has a nice stiff spring that helps hold it closed before locking the gate. It marked strength numbers are 20 kN longitudinal, 7 kN side load, 6 kN open gate. The flares in the gate shape help keep the biner getting through some of the old drilled bolt hangers (which seem to help be more secure). The reason for 4* rather than 5* is that the description I read when deciding to purchase gave different kN values than those stamped on the biner.

I got these carabiners for a more secure, quickdraw using lockers. This biner will likely stay on the hanger end. It fits that role well.

Reviewed by someatxclimber from tx on Monday, December 29, 2014

Great for rigging systems with pulleys, multi-point anchors, etc.

Reviewed by Cody from Colorado on Wednesday, October 1, 2014

Picked one up real cheap as a backup locker/bailer. It'll work, but NOTE the following:

1. I received a different model, maybe older? The kN ratings on mine are different than advertised.
- The biner I received has different logo than the online picture, and mine is rated 20/7/6 opposed to the advertised 21/9/7
- Yea yea the kN isnt very different, but it IS different
2. This appears to be a "2nd", or blemished biner, and it was not advertised as so. It was advertised as a "Closeout", not a "2nd"
- Each end of the biner has small wear or manufacturing error marks. I attached the best pic I could. The marks are like early top-roping wear marks on a biner.

Like I said, it'll work. I'm just disappointed because I'm not receiving the product as advertised - the product I expected.