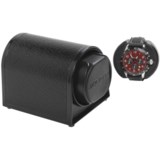 Overstock. The smallest -- and most silent! -- of the Rotorwind collection, Orbita's Sparta 1 mini watch winder is powered by a quiet AC motor and handsomely finished with a textured, faux-leather exterior.
Average Rating based on
17
reviews
3.941176
0
5
Verified Buyer

Reviewed by Kevin from San Francisco on Saturday, July 16, 2016

Unique, simple, and effective. Is small and works very well.

Verified Buyer

Reviewed by Hoosier Hunter from Indiana on Tuesday, October 13, 2015

Very nice winder and a great bargain buying it through Sierra Trading Post. Very quiet and efficient. The pillow was a little small so, I contacted Orbita and they sent out a larger pillow which worked out well. If you need a winder you will not find a better one at this price.

Verified Buyer

Reviewed by South Jersey responsible gun owner from New Jersey on Sunday, August 30, 2015

This is my third purchase...not because the first two broke, but because I am changing out watch winders. This is a great piece of equipment for the task at hand. Works with my Rolex and Bulova automatics, and also my Sieko Kinetic Direct-Drive (hard type of watch to find a winder for). Retails for $300, find it on Amazon for $250, or buy it here for $150 +/- (use coupons when available and you can get a GREAT deal!!!). SierraTradingPost.com provides outstanding service as well.

Verified Buyer

Reviewed by geof from Florida on Friday, April 24, 2015

Love the rotorwind concept. Well built and looks nice. Silent but runs a little warm. Need to check with Orbita and ask if that is normal.

Verified Buyer

Reviewed by BigJohn from Maryland on Friday, January 16, 2015

Unit works very well. Im glad l purchased it, especially since Sierra sells it at less than half the price of everyone else, including Amazon.com.

Verified Buyer

Reviewed by alexp from nyc on Saturday, November 22, 2014

Great budget winder, not many complaints for this price... except that mine broke after about 10 months of weekend use. The internal drive key became separated from the drive shaft.

Detailed diagram:
http://i21.photobucket.com/albums/b297/GHGecko/IMAGES/Watches/Accessories/Orbita_Rotorwind_Cutaway.jpg

Verified Buyer

Reviewed by andy from az on Wednesday, October 22, 2014

Totally silent. Works great!

Reviewed by Steve the vest buyer from CT on Friday, September 19, 2014

It does not fit larger watches. I also do not like having to plug in the very large transformer.

Reviewed by Mark Twain from World Traveler on Tuesday, July 8, 2014

The Sparta 1 Mini works flawlessly...it is easy to use (a no brainer) just remove the 'Cup' the watch cushion and then with your watch bracelet or strap in the closed position, squeeze the cushion flat side up and insert it into your bracelet or strap and center it on the cushion (doesn't have to be perfectly centered) then place it in the 'Cup' again and with the heavy side down (the metal rotor down which you can see on inside back of the 'Cup') and re-insert it into the winder. Turn on the rocker switch on the back of the unit and go relax...the winder does the rest. It cannot overwing your automatic watch. Be advised it does get warm inside the winder and this is normal (its an electric motor). Also note it runs continuously; meaning it does not have an 'ON' / 'OFF' state (not to be confused with an on/off switch). The motor rotates for approximately 180 degres then the 'torque shaft' aligns with the rotor drive and drives the rotor/cup for another 180 degrees until 'gravity takes over and the cup swings freely "Winding your Watch" until it runs out of inertia and then the process starts all over. I timed mine and it takes exactly 12 minutes for a full cycle, which is actually better for my watch since it requires approximately 650 TPD (turns per day). Keep in mind the free swing time varies with weight of your watch; a heavier watch will swing less time than a lighter watch so your TPD may vary. But on average it will be enough to keep your watch wound. Be sure you wind your watch fully before placing it on the winder the first time.
The mechanics of this unit are high quality and meant to last years. Made in the U.S.A. buy one you will be glad you did!


Reviewed by alexp from nyc on Monday, February 24, 2014

This well regarded winder usually retails for about $250 and for $110 is a real steal.