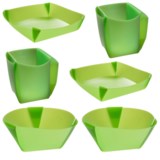 Closeouts. Orikaso's fold-flat dinner set for two, includes plates, bowls and mugs, for enjoying a picnic, backyard meal or sports event.
Product and packaging are recyclable
Set of two
Plates (two):
Folded: 8-¾" square
Unfolded: 10" square
Bowls (two):
Height: 3"
Diameter: 6-¾", 10-¼" folded
Capacity: 22 fl.oz.
Mugs (two):
Folded: 4-½x4-¼x3-¾"
Unfolded: 9-7/8x9-¾"
Capacity: 12 fl.oz.
Total weight: 10 oz.
Material: Polypropylene
Closeouts. China.
Average Rating based on
14
reviews
4.000000
0
5
Verified Buyer

Reviewed by Geekmama from Western Mass on Saturday, June 27, 2009

I was very impressed with these. They kept my kids busy building them so I could build the first night's fire. They handled hot chocolate, instant oatmeal and other hot foods without leaking or falling apart. They don't clean great until you take them apart. I could pack dishware for 4 in the space of a bunch of sheets of paper.

Best Uses: Backpacking, Car Camping
Cons: Difficult to Clean
Describe Yourself: Avid Adventurer
Pros: Compact, Lightweight
What Is Your Gear Style: Minimalist

Verified Buyer

Reviewed by WI Paddler from Madison, WI on Thursday, June 4, 2009

Easy to use, packs flat. Just be careful not to fill them too full! :)

Best Uses: Backpacking, Hiking
Cons: Unstable
Describe Yourself: Casual Adventurer
Pros: Compact, Easy To Clean, Lightweight
What Is Your Gear Style: Minimalist

Verified Buyer

Reviewed by Josh from Jackson, Tennessee on Thursday, April 30, 2009

I got these on a good sale at STP, so I thought they would be worth spending a little on. They are a cute little camping toy. They will work, I've used them and they were kind of fun to use, but they certainly aren't as durable as using a frisbee as a plate or a hard, plastic, insulated mug. All in all, I recommend them to casual hikers who want a new toy to play with- if that's what you're looking for, then you won't be disappointed.

Best Uses: Backpacking
Cons: Unstable
Describe Yourself: Casual Adventurer
Pros: Compact, Easy To Clean
What Is Your Gear Style: Comfort Driven

Verified Buyer

Reviewed by Newby from Omaha on Wednesday, March 25, 2009

I was looking for something light to take into the BWCA this summer. It is very light and flat!

Best Uses: Backpacking, Hiking
Describe Yourself: Avid Adventurer
Pros: Compact, Durable, Easy To Clean, Lightweight, Stable
What Is Your Gear Style: Minimalist

Verified Buyer

Reviewed by This Guy from Buffalo, NY on Sunday, January 18, 2009

I love the product.[...]

Best Uses: Backpacking, Car Camping, High Altitude, Hiking
Describe Yourself: Avid Adventurer
Pros: Compact, Durable, Easy To Clean, Lightweight, Stable
What Is Your Gear Style: Minimalist

Verified Buyer

Reviewed by The Camping Fiend from Aurora, CO on Wednesday, December 24, 2008

Well, since we havent had the chance to use these yet (it's a wee bit chilly for back-country camping right now), we cant say much about them...except that we've played with them a bit; they seem quite stable, and easy to fold. Quite ingenius, really. We can't wait to try them out on our next backpacking trip!

Best Uses: Backpacking, Car Camping
Cons: None yet - havent used em
Describe Yourself: Avid Adventurer
Pros: Compact, Lightweight, Stable
What Is Your Gear Style: Comfort Driven

Reviewed by Zombie Woof from Deerfield, NH on Saturday, December 20, 2008

I usually eat right out of the pot but when I use a plate or bowl this is it. Put it back in the tyvek bag it comes in, slide it down against the back of your pack, it'll lay flat enough. Unfold it wipe it clean or just lick it clean! 2D beats 3D any day in a pack

Best Uses: Backpacking, Hiking
Describe Yourself: Avid Adventurer
Pros: Compact, Durable, Easy To Clean, Lightweight
What Is Your Gear Style: Minimalist

Reviewed by Charlie from Wilmington, DE on Monday, September 22, 2008

I use this set for backpacking. I like it because it breaks down flat. It may not lay perfectly flat, but once it gets in your pack it is essentially flat.

I found the pieces easy to assemble without instructions.

The bowl is unmanageable with hot food. I find I must put the bowl in the plate before I can use it.

Fluid spills out of the cup if you if you tilt it a certain way. Be careful or wear it.

Despite all of the listed flaws, I recommend this setup to anyone willing to forgive the inconveniences inherent in living out of a backpack.

Best Uses: Backpacking, Car Camping, Day trip
Cons: Uninsulated
Describe Yourself: Casual Adventurer
Pros: Compact, Lightweight
What Is Your Gear Style: Minimalist

Verified Buyer

Reviewed by dr greg from redding calif on Wednesday, August 13, 2008

poor chinese imitation of japanese product from 1980's (which were a delight). new plastic is too heavy hence corners wont stay folded.

Cons: Unstable
Describe Yourself: Avid Adventurer
What Is Your Gear Style: Comfort Driven

Verified Buyer

Reviewed by Arequipa from Palo Alto, CA on Wednesday, August 6, 2008

The instructions are pretty useless - folding them the first time is challenging but you can work it out. A sense of humor helps. They will not lie completely flat again. However, the plastic is strong and easy to clean and we think the set will be very useful. We plan to use it to make the occasional light sandwich and fruit meal while traveling, both in the hotel and as we're out sightseeing. The mugs will be nice to use in the bathroom also as one wonders about the cleanliness of what you find there.

Best Uses: Picnic while traveling
Describe Yourself: Casual/ Recreational
Pros: Compact, Durable, Easy To Clean, Lightweight, Stable
What Is Your Gear Style: Minimalist