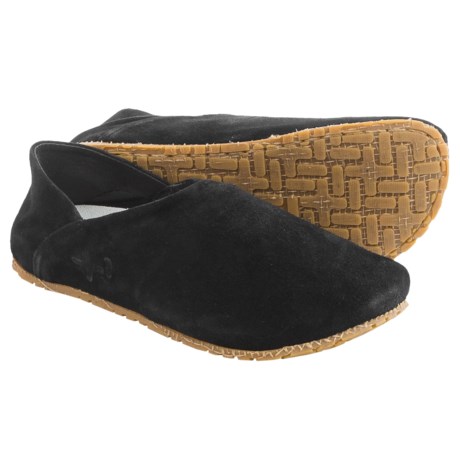 You might pass on these because I wear a 9 and ordered the 39. I think 40 would have given me a little more room in the toes. Plus with your high arch they will be difficult to slip on. You should definitely try this brand in another style some time. They are very comfy.

I had ordered them and loved them. Also have a very high instep and arch and could not get them on my foot.
I don't think a size up would help as it's all in the very small opening. I had to, sadly, return mine.
Hope this helps!

I usually wear 8-8.5 and i ordered an 8. I have very high arches and these fit tight across the top of my foot. i have shoe trees that i put in them to stretch them slightly, but any bigger and they wouldn't fit on my foot for long. They will stretch out as you wear them. They are great shoes!

Hi ... I wear a size 10 as well and have these shoes in the gray color. I love them because they are light, comfy, easy to walk in, and very unique looking ... sort of a soft suede espadrille or peasant shoe. The 10 fits me perfectly, with plenty of room for my toes. I have worn them without socks, but will likely wear a thin sock as the weather gets cooler. I don't see myself wearing these outside during a Vermont winter though! I don't know what to tell you about the high arch issue ... I guess I have regular arches. The shoes are definitely not slip on ... you put your forefoot in, then take the soft back in your fingers and slip your heel in ... then you are very snugly in and they stay on your feet without slipping. Good luck!

Even though the fit was rather tight, I decided to keep these and hope that they will stretch. Just wearing them a couple of hours a day every once in a while. If you 'must have' these shoes, be prepared for some discomfort at first until they stretch out. Otherwise, look for something else. I can't suggest others in this style.

I have these in a 39 and I wear an 8.5. Super comfortable. Maybe worth a shot? STP return policy is great!

I wear a size 9.5 and ordered up. I couldn't even get my hand in these shoes. The length of the shoe is not the issue. It's the space from top to the insole of the shoe that is ridiculously tiny. Your foot would have to be flat like a cardboard cutout to fit into this shoe. The footbed is like the sole of a birkenstock but removable, which is weird. But even with the thick cork footbed removed, the shoe is too small.

Yes skip these, you wont even be able to get them on if you have high arches,
unless you stretch them out somehow.
Go for any if the espadrilles to start!

I share your admission, I also have a LOT of shoes. I received these as a gift. They are okay once they are on, however, they are a struggle to get into. I think that with high arches it will be even more of a struggle and may not fit properly because they are tight across the in step. They are more like a slipper than a shoe. If I were you, I would pass.

If you don't have a problem with birkenstock or dansko in your normal size, it's probably fine. If your instep (top of the foot above the arch) frequently has discomfort from laces, seams, tags, or other tongue pressure, you might have trouble. Many of the other OTZ models (made from woven fabrics with less give) have an elastic gusset which might make the difference. But in spite of the soft leather, the stitched edge of the opening in front of the ankle on this shoe is short and inelastic.

I found the length true to size, and the width (actual width of footbed) generous. The shoe is meant to fit just slightly snugly (except at the toebox, which is roomy) at first, then stretch/compress and loosen. I suspect sizing up wouldn't help if it's the instep that concerns you (that's just my experience with shoes that are shaped like this--I frequently size up a half size or buy men's shoes, which have more volume/girth in the midfoot). This one spot on the shoe is not meant to stretch or loosen.

Returns aren't free, here, so that might help make the choice if you're ordering online. I conflated two product descriptions and thought this one had gusset. It doesn't. This one: http://www.sierratradingpost.com/otz-shoes-waxed-canvas-espadrilles-for-women~p~159wm/?filterString=s~otz%2F does. And this one: http://www.sierratradingpost.com/otz-shoes-textile-espadrilles-for-women~p~159wn/?merch=prod-rec-prod159WN .

I ordered them in my regular size and they fit fine as a matter of fact after wearing them for awhile they are now stretched out and a bit floppy unless i wear a thicker sock .. I wanted them for around the house wear not sure i would wear them out .. they are very cute and at a great price. I love them.. they are supportive for those of us with high arches.. Go for it!