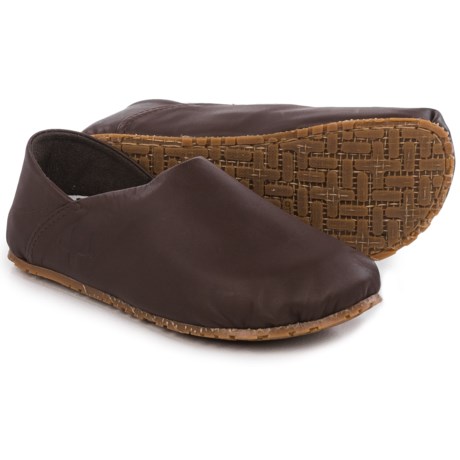 I have 2 pair of OTZ shoes that I really like. My feet are wide but my sense is that the goat skin has stretched to adapt to, accommodate my feet. The heels may slip a bit but the shoes do not slip off the back of my feet. These are thin, light weight shoes. The soles are thin, light weight and very non skid. I do wear them outside in good weather. I wear a size 8 - 81/2. My OTZ are size 9 and not too big for my feet. That the description states the shoes "gradually molds to your foot's unique shape" is accurate.

I think they would be too wide, especially in the forefoot area.

This being winter in Missouri,I have worn my shoes only with socks(both thin and medium weight)and they are fine for my narrow feet.Be aware that they do stretch some.Mine were a bit tight on my big toe but they are fine now.Order your regular European size.

It's worth a try. I'm more of a medium width and need a shoe horn to get them on easier. Plus, you can always wear a thicker sock.

We currently only have this item in medium width. We suggest signing up for the My Updates as the best way to monitor incoming products. You will receive email notifications of our newest stock items.