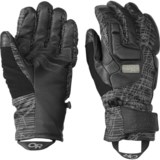 Closeouts. Designed with hard-charging freeskiers and riders in mind, Outdoor Research Knuckleduster gloves are primed for pow with a waterproof breathable Ventia shell and supple goatskin palm.
Average Rating based on
9
reviews
4.111111
0
5
Reviewed by frankie from Ill on Wednesday, February 12, 2014

These gloves are great for the price point and would be even at retail. They are warm and will likely last a long time.

The problem is the metal plate w/ the OR logo on the top of the hand. It sticks out like a sore thumb. Placed at the edge of the knuckle bone. These gloves fit great but when I make a fist I can actually feel the metal plate through the glove. The plate catches on things regularly, and when I do eventually hit this part of my hand on something it will not feel good. This wouldn't be so bad if the location was closer to the wrist or basically anywhere except an area highly likely to protrude.

It is shocking that OR designers didn't think of how stupid this idea actually was. It seems as though no one tried them on b/c this was the first thing that crossed my mind, "what a terrible idea/location for this emblem."

Happy with the gloves overall but a bit bummed that something so avoidable taints them.

Reviewed by DC from Chicago on Thursday, February 6, 2014

Ordered these after returning a couple of other gloves for vaious reasons, mainly warmth and bulk. These are definately warm, but a bit on a bulky side in my opinion and a bit on a large. I'm a medium in every other glove, but found the fingers in these gloves to be a bit long. The material used seem high quality. My only other gripe would be the little metal "OR" plate on the back of the hand. It seems like it would snag on things and in time, rip off. Ultimately I don't see that much of a different between these gloves and an inexpensive pair of bulky waterproof glove. I'll keep these because of the price I paid, but had I paid full price, I would definately be returning.

I'm beginning to realize that gloves are something that need to be tried on before purcahsing. If I had to do it all over again through Sierra, I would probably order like 5 pair, try them on when I recieve them, then only keep the one with the best fit.

Reviewed by Marcy from Michigan on Wednesday, January 29, 2014

We have had these "artic cold" winds -20 degrees wind chills for days and my husband had been complaining about this hands being freezing - well, he doesn't anymore! He says that his hands stay very warm with this gloves while he is out there shoveling this wonderful white stuff that keeps falling as the wind keeps blowing. Thank you!

Reviewed by JP from San Francisco on Tuesday, January 21, 2014

I had a pair of US Ski team Reusch globes for 18 years. When they finally had to be put out to pasture I wanted another pair but couldn't find them in time for an upcoming trip. So I bought these OR Knuckledusters for $35 on Sierra Trading Post thinking they'd be good enough to get me through this one trip. Gloves show up and come to find out they are warmer, more dexterous, way more breathable, and actually better looking than the Reusch! What an amazing deal! Anyone looking for a solid under the cuff ski glove these would be the answer even at msrp. At the discount price?? Don't think twice!!

Reviewed by Donald from Connecticut on Sunday, January 19, 2014

I measured both the width and length of my hand according to standards here, on the OR website & elsewhere. I always come up with medium but it's always a gamble with the lack of glove size standards with Asian imports. These gloves are 1 1/2" too long on my fingers yet are too tight overall. They lack dexterity because of the material stiffness of the funky plastic glove back side. Might as well wear mittens because these gloves are NOT warm & have worse flexibility . They are not suitable below 30F for any length of time, especially without sunlight. They depend solely on the velcro cuff closure to seal out the cold; having no elastic gathers on the wrist. You might get one glove sealed off enough with the ungloved hand but you'll need a helper to get the other. However the fingers aren't properly insulated relative to the lack of ease of movement. It always feels like the gloves are going to pop off, requiring constant pulling on the cuff gauntlet to reseat the palm. OR makes good stuff, but not these. I'm returning them

Reviewed by sharkbite52 from Minnesota on Saturday, January 18, 2014

These are the warmest gloves I have ever owned...That's saying a lot because I've lived in the mts. of CO and here in southern MN it gets 40 bleow zero, but these gloves always do their job. I use them on a daily basis because my drive to work is so short that the car never warms up and when the feels like temp is negative 20 my hands freeze fast on a cold steering wheel and the gloves make all the difference. I also use them as they were intended though. I've been sledding and snowboarding in them and they hold up to the snow, wind, and low temps like champs.

Reviewed by Steep n deep from Idaho on Saturday, December 28, 2013

Great gloves. Great fit. Warm

Reviewed by 45YDQUEM from Northern Ohio on Friday, December 6, 2013

How many times does a glove not keep my fingers as warm as a mitten not very often but when I use these gloves my fingers are toasty and warm. Most water proof gloves do not breath well so you sweat out from the inside because they can' t breath. That is not the case with Outdoor Research Knuckleduster Gloves I hands stay warm and dry. I'm also well protected from branches and small trees when cross country skiing due to the extra build out in key areas. I can extend my time outside because i don't have to worry about discomfort from cold moist hands. What a great buy from Sierra Trading Post with great pricing on this item

Reviewed by Greg from Washington, DC on Thursday, December 5, 2013

haven't tested in the cold yet, but the seem like they will be warm. The knuckle protector is a little weird, and bigger than I expected which I dont really care for, but it will do.