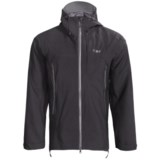 Closeouts. The ultimate alpine climbing, skiing and mountaineering shell. Outdoor Research's Maximus jacket boasts the ultralight storm protection of Gore-Tex® Pro Shell waterproof breathable technology and has ventilation zippers that extend down the entire side of the jacket to prevent overheating.
Average Rating based on
22
reviews
3.954545
0
5
Reviewed by Tom from Pacific NW from Seattle Area on Monday, March 17, 2014

I purchased this as a back up to my Marmot Pro Shell. This coat is slightly heavier and stiffer in material. The arm pits are very tight, but part of that is due to extra material built into the armpit so when I move my arm straight up it does not pull the bottom of the coat up my waist. This is a feature I like, and I can accept the tight feel to allow this.

I am 6'4" and vary between the L and XL. L-Tall fits me best usually but not offered very often. This coat, size L, fits me very well, and trim. I can wear shirts and a light sweater underneath with good fit all around. I find I unzip the side zippers about 3 inches to allow access to my pant pockets, otherwise the trim fit and stiffness makes it hard to quickly reach into my pocket. I am getting used to the size zippers, but so far I like them better than the armpit zips on nearly every other coat I've owned (NF, Marmot, Mt Hdwr, Arteryx).

The look is good, and I use it for my going to work coat as a nice coat. The green color is good.

Pockets - well designed, deep and great access.

Hood - works well and adjust well. I usually wear a brim hat (REI felt hat type with full brim, packable, etc).

Zippers are the waterproof type, so they are very stiff, but should soften up in time (after about 100 zips).

Overall, good coat for living where I do.

Reviewed by upwardly mobile from north of here on Sunday, March 9, 2014

The fit is good, no restrictions in the shoulders or arms. I was wondering about the side zippers when I first saw them, but after wearing the coat in the snowwindrainyday I found them very handy. And the pro shell fabric is amazing. I expect to shred this coat over the next five years, like the last one.

Reviewed by Chad S. from PA on Monday, February 24, 2014

The product seemed to be of a very high quality material and well made. However the fit was way off. I am 5'10" and 185 lbs. and I typically wear between a large and XL depending on brand. After reading the reviews i thought I'd play it safe and order and XL. It was very tight around the shoulders and across the upper back and was just an awkward fit. Had to return this one.

Reviewed by CBGBsOutdoors from Rhode Island on Tuesday, February 18, 2014

I wanted to love this jacket. It is so well built and the price was fantastic. Sadly, the arms are way too tight and constrictive. I didn't heed the other reviews and should have. I am not jacked at all, so I figured that the tight arms would not be an issue. I was wrong. If you plan on layering at all (and you will need to if you want any warmth) then you will likely have an issue.

Reviewed by frankie from Pennsylvania on Sunday, February 16, 2014

Whilst probably designed for grand backcountry adventures, this jacket did a superb job in downtown London. I was there recently as a volunteer bone marrow courier and it has been the rainest weather in at least 250 years. A strong wind blew as I walked comfortably around the city. Dozens of destroyed umbrellas were visible. The jacket kept the rain and wind out and allowed me to tour the city. The hood is big enough to cover a helmet, but probably not big enough to cover the large bearskin hats of the Foot Guards protecting the Queen!

I highly recommend this quality garment.

Reviewed by PNW boaters from cascades, wa on Friday, January 17, 2014

Moves and protects well with good length in the arms and body. Front pockets are more than big enough to fit fat skins. Arm pits are a bit tight and the vents just go to the pits. Very packable. I normally wear large (5'7"/ 185#) and the xl looks just a tad big, but with other comments about the tight pits, i went xl and am happy i did. Mostly been skiing in 26- 34f temps, very wet snow and the jacket has kept me dry so far...

Reviewed by Matt the endurance coach from Idaho on Tuesday, January 7, 2014

This jacket so far has been great. No one should ever doubt Gore-Tex being able to keep you dry, but also breathable, yes indeed! The ventilation zippers that run the length of the torso are so much better than pit-zips. The zippers are doubled so you are able to zip from the top or bottom of the torso, thus not acting like a wind sock as pit-zips do. Also the back of the jacket is designed so when you sit down (on the chair lift) the jacket doesn't ride up and expose the lower back. A great product!

Reviewed by Kevin the Cigar Smoker from Alexandria, VA on Monday, January 6, 2014

I read the reviews about the jacket but wanted to see for myself.......the arms were not the problem! It's a bit snug in the waist area since I have a bit of a stomach 5'11' 250 lbs so I have trouble with some fits. All-in-all I am looking for something comparable to this jacket before I exchange it for now.

Reviewed by Caveman Lawyer from Massachusetts on Friday, January 3, 2014

seems like a great jacket but the shoulder/arm whole area is too tight and restrictive.

Reviewed by Carol E from Virginia on Saturday, December 28, 2013

Got this as a present for my husband and he loved it, especially the side zips. Here in Virginia the weather is so variable, the ventilation zippers make this jacket versatile for all seasons and of course the Goretex is a trusted material.