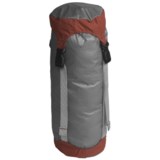 Closeouts. Outdoor Research's Ultralight compression sack reduces sleeping bags and other stuffables to pack-friendly sizes. Made of ripstop fabric, it features four compression straps, drawcord closure and a built-in stuff sack.
Average Rating based on
8
reviews
4.750000
0
5
Verified Buyer

Reviewed by Bloomfield from Bloomfield on Wednesday, August 6, 2014

Nice & light with 2 quick release straps, I keep my sleeping bag in one and a plethora of thermarest pillows in the other for my camping trips and retreat sleep-overs. And it's light and easy to stow away during the trip.

Reviewed by JamesD from Nebraska on Wednesday, July 2, 2014

I bought this to compress a synthetic, Long, REI Polar Pod sleeping bag so it will fit in my pack better.

The lower temp rating of this bag is 31 degrees but I think you could probably fit a synthetic 20 degree bag in this stuff sack depending on the fill. The Polar Pod uses a cheaper fill material that doesn't compress as much as some others.
I was able to compress the sleeping bag to roughly half it's original volume without getting too carried away with the compression straps.
While the length is reduced a great deal, the sack does expand in diameter somewhat since the material stretches and compression straps only go in one direction. I think it bulged out at least an 1 inch in diameter so don't expect it to look as skinny as the photo when you are done.

This compression sack itself supposedly weighs about 5.1 oz on average so it is pretty lightweight and definitely lighter than another compression sack I owned. I suppose they could have saved a few grams if they didn't have the built in pocket to stuff it into but I like the feature.

On top of all that I picked it up for about half what a local sporting goods store wanted for a smaller compression sack.

Definitely worth 5 stars

Reviewed by VanMan from Vancouver, BC on Thursday, March 6, 2014

Light weight and well thought out. Good size for a synthetic sleeping bag .

Reviewed by Forrest gimp from Virginia on Friday, February 7, 2014

I purchased this product as i one stop bag for my camping needs. This roomy sack fits my sleeping bag, hammock, bugnet, tree straps , biners & cook kit...as well as a shirt or two..possibly more. I love when it's not in use it can be folded up into its own pocket & stowed away nicely.

Reviewed by Zoltar from Sierras on Tuesday, November 26, 2013

I bought this for a 15 degree North Face 650 fill down sleeping bag. The bag was compressed no problem, but I would say the compression sack was too large for this sleeping bag. I would recommended this for a 0 degree or colder bag or a "long" sized sleeping bag. When I compressed my bag, the straps ran out and I felt there was still a lot more compression to be done on my sleeping bag. It does just what it needs to do and holds the load together without allowing it to bulge out when under compression.
--
The one flaw I could note is that the bag has two little strips of velcro to make it stick together when you aren't using it. Yes it makes the compression sack look nice and pretty when not in use, but if you are using it, this velcro likes to stick to the cinch strap at the top and tear it up. I think they should remove the velcro, or make a snap. No one needs their compression sack to look nice when on display. Function all day long...

Reviewed by Colleen from MN on Sunday, September 15, 2013

This is my first compression sack and not the last. Nearly effortlessly scrunches my sleeping bag down but only in one direction, so as the bag gets smaller it also gets fatter.

Reviewed by justin from PA on Saturday, August 24, 2013

I really like this compression sack. It loads up my 20 degree bag really well. No complaints.

Reviewed by Patricia from Los Angeles on Wednesday, June 12, 2013

We bought these to compress our sleeping bags for travel and they really seem great. We haven't taken our trip yet, so we haven't seen if they hold together for weeks, but we put our sleeping bags in our compression sacks and they now are able to fit in our duffle bag really well.