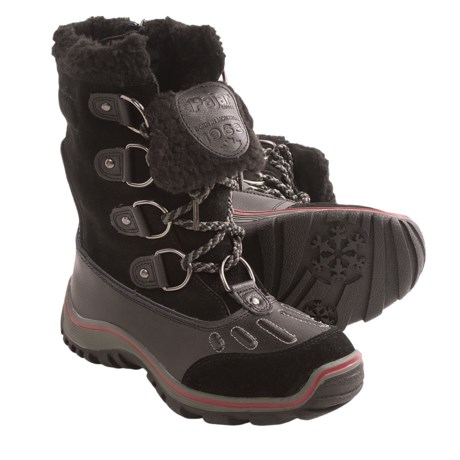 Great Comfy Boots - Definitely Order Up a Size If You Got Medium to Slighty Wider Feet At Least!
Verified Buyer
Reviewed by Syphon79 from Washington DC on Wednesday, December 10, 2014
My husband got Pajars last year since we spend the holidays with his family up in the Cape Cod area. The fact his boots amazingly handled the snow and ice we had up there, I knew I wanted my own pair. Didn't occur to me to check Sierra Trading Post until the holidays started. Alot of reviews on Pajar boots were all over the place in regards to size. Half the reviews said to order up a size, others said go for true size. But with the deal Sierra Trading Post offered....I tried the size 7 and 8 respectively to test them out to see which best fits my slightly wide size 7 foot.

In terms of sizing....I was able to fit in both . The size 7 fit me so long as I wore my regular to thin socks. However, if your feet are slightly wider....getting your true size might be tight either in the toebox area or in the middle area of your foot. If that doesn't bother you, then stick to your true size. For me though, I wanted to be able to wear thicker socks to combat the Cape Cod winters....so I tried the size 8 boot. Way better -- my toes weren't squished in the toebox area, and I wasn't feeling pinched around the middle and heel area of my foot.

So overall....if you want comfy boots that are on the more affordable side....consider Pajars. But definitely go up a size. It's always easier to pad with extra socks vs trying to stretch the shoe to fit you comfortably. Least that's my two cents.

I haven't tested them outside yet (been wearing them indoors to break them in quicker). So far, they're super comfy and warm. Might be a good idea to spray the exterior with protectant if you're worried about ruining them in the snow.


Similar items and more information in the following areas: