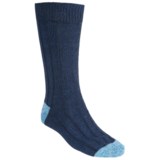 Closeouts. Featuring a supremely soft, lightweight knit cotton and a touch of contrast at the heel and toe, Pantherella's Country Cotton Melange socks are a refined wardrobe's go-to accessory.
Average Rating based on
9
reviews
4.444444
0
5
Reviewed by Matt in Pittsburgh from PA on Saturday, February 14, 2015


These are the 90% cotton "Pantherella Country Cotton Melange Socks - Crew (For Men)". I can disparage the build quality for what they are supposed to be, but I have many gripes with them.

Mainly, they run big and/or are strangely proportioned/sized. I am a size 9 men's shoe and the appropriate size sock is really a bit too big in the foot...I can't say they don't fit though, as the material doesn't bunch-up at my toe, etc. It is strange. Mostly, they are too big in diameter around my ankle, shin, and lower calf -- I am not slightly built, just average "boned" as they say. Below the very top, they have little to no elastic...as such, they progressively slide down and I find myself pulling them up. Ugh. I'll keep them and wear them for time to time, but really am disappointed with this pricey pair of socks. MAYBE if I got a smaller size and stretched into them a bit, I'd be happy...but I sorta' doubt it.

Not to totally diss them -- the material is a wonderful cotton and as I said, they are clearly well made. So...if you want to try them, maybe order a size small. Hopefully, that will be the issue.

Feb 2015.


Verified Buyer

Reviewed by OCULUS from Rensselaer, NY on Monday, August 18, 2014

Pantharella makes wonderful socks. Unfortunately, I am a 12 shoe and believed the STP sizing of R 7-11 and shied away. On a whim for colored stripe socks, I ordered a pair and sure enough that 11 is UK or 12 US. Now, I have bought another dozen pairs. Don't hesitate.

Verified Buyer

Reviewed by AnnaLaurie from Arizona on Wednesday, April 16, 2014

Not much to say here. The socks are very nice quality, and you get what you see. They are nice medium weight and should be comfortable.

Reviewed by AnnaLaurie from AZ on Friday, February 28, 2014

I'm female and picked up this sock in a melon/peach color. It's great! But be cautious, girls, as size "regular" (men's) is at least about size 10/11 for a woman. I'm tall, so it worked for me.

Reviewed by alina from arkansas on Thursday, January 16, 2014

i purchased these socks for my son. It a good brand of socks, good quality and he likes a lot

Reviewed by anonymous coward from la area on Monday, December 16, 2013

this is a very well made casual sock. perfect for jeans and chinos. and with the discount the price was right.

Reviewed by Charlie from N. Va. on Monday, December 16, 2013

Top quality
Very good fit on size 10 foot
Washes well

Reviewed by the 216 from Cleveland on Tuesday, November 12, 2013

I don't care for a really thin sock, and I also prefer socks with strong elastic, so these socks were a pretty good choice.

Reviewed by steego from No. Calif. on Saturday, August 31, 2013

It is hard to get excited about socks but these are really special. They look and feel great.