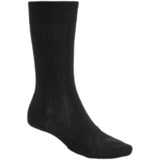 Closeouts. It's time to upgrade socks... it's time for Pantherella's mid-calf socks, a fine and durable blend prominently featuring merino wool.
Average Rating based on
112
reviews
4.071428
0
5
Verified Buyer

Reviewed by KCH from WA on Thursday, February 15, 2018

Simply: Wool is the best material for socks, and these fine wool knits are superb. A no-brainer for someone wanting quality and comfort.

Verified Buyer

Reviewed by Betsyo from Pennsylvania on Monday, May 15, 2017

Hope they stay up. Nice color with khaki pants.

Verified Buyer

Reviewed by TnT Duck from Portland, OR on Wednesday, April 26, 2017

I bought these at the same time as I bought another pair of Pantherella socks, so if this looks familiar, it's because these are basically the same socks. The bottom line is that these socks are TERRIBLE at staying up. The fabric covering the calf is simply too loose. I guess if you have calves like an elephant, this is the sock for you.

Verified Buyer

Reviewed by Wool Feet from Iowa on Saturday, March 11, 2017

These were pretty nice, not too thick for wool socks. They were way too big, so I had to return them.

Verified Buyer

Reviewed by Beach Bum from Florida on Tuesday, January 17, 2017

Sock sizing is true. Socks fit is silky with no slipping. Socks are durable, high quality and do well after washing (no shrinkage).

Verified Buyer

Reviewed by Nicole from Arizona on Thursday, January 12, 2017

These socks look lovely, until you hold them up and notice they were made for giants. I ordered these for my boyfriend in the size he wears. When he held them up against his other socks, we both cracked up. They were easily twice as long! I retuned and ordered a size down (too small according to sizing on packaging). If these were any smaller, they weren't by much. Again, they were enormously long.

Reviewed by Heath71381 from Bloomington, IN on Saturday, December 24, 2016

I ordered a large for my husband who usually wears and XL in Smartwool. When I opened the package I had to laugh at how obscenely large these socks were. They went well over his knee and were huge on his feet. Too bad he doesn't have clown feet.

Verified Buyer

Reviewed by LoriAnn222 from Salinas, CA on Tuesday, October 18, 2016

I've been looking for wool dress socks for my husband. Pantherella is even better than Smart Wool because Smart Wool doesn't have this super fine wool in a dress sock.


Verified Buyer

Reviewed by TallTexan from TX on Monday, September 26, 2016

These are my husband"s favorite socks. He swears by merino wool for his boxer briefs and his socks, and that is the only fabric that he will wear for these garments. He likes these socks for their light weight and odor inhibiting features, and wears them for office, dress, casual, hiking...basically the only socks he will wear. I give them 4 stars as I don't see them as "perfect" since I consider them a bit "high maintenance". I wash them only in cold water on the Wool setting of a front loading washer, and I hang them to dry; they are too expensive to risk shrinkage. They do get thin and develop holes fairly quickly, but I think that can be attributed to daily wear. I do wish that they were more durable in that department.

Verified Buyer

Reviewed by las30 from California on Thursday, September 22, 2016

The socks look nice, but these run huge. I bought them for my son who is a size 11. He needed them for a theater performance. Unfortunately, he won't be wearing them until he reaches a size 13 or 14 if he ever does.