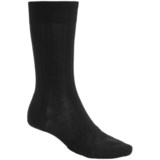 Closeouts. It's time to upgrade socks... it's time for Pantherella's mid-calf socks, a fine and durable blend prominently featuring merino wool.
Average Rating based on
112
reviews
4.071428
0
5
Verified Buyer

Reviewed by KCH from WA on Thursday, February 15, 2018

Simply: Wool is the best material for socks, and these fine wool knits are superb. A no-brainer for someone wanting quality and comfort.

Verified Buyer

Reviewed by Betsyo from Pennsylvania on Monday, May 15, 2017

Hope they stay up. Nice color with khaki pants.

Verified Buyer

Reviewed by TnT Duck from Portland, OR on Wednesday, April 26, 2017

I bought these at the same time as I bought another pair of Pantherella socks, so if this looks familiar, it's because these are basically the same socks. The bottom line is that these socks are TERRIBLE at staying up. The fabric covering the calf is simply too loose. I guess if you have calves like an elephant, this is the sock for you.

Verified Buyer

Reviewed by Wool Feet from Iowa on Saturday, March 11, 2017

These were pretty nice, not too thick for wool socks. They were way too big, so I had to return them.

Verified Buyer

Reviewed by Beach Bum from Florida on Tuesday, January 17, 2017

Sock sizing is true. Socks fit is silky with no slipping. Socks are durable, high quality and do well after washing (no shrinkage).

Verified Buyer

Reviewed by Nicole from Arizona on Thursday, January 12, 2017

These socks look lovely, until you hold them up and notice they were made for giants. I ordered these for my boyfriend in the size he wears. When he held them up against his other socks, we both cracked up. They were easily twice as long! I retuned and ordered a size down (too small according to sizing on packaging). If these were any smaller, they weren't by much. Again, they were enormously long.

Reviewed by Heath71381 from Bloomington, IN on Saturday, December 24, 2016

I ordered a large for my husband who usually wears and XL in Smartwool. When I opened the package I had to laugh at how obscenely large these socks were. They went well over his knee and were huge on his feet. Too bad he doesn't have clown feet.

Verified Buyer

Reviewed by LoriAnn222 from Salinas, CA on Tuesday, October 18, 2016

I've been looking for wool dress socks for my husband. Pantherella is even better than Smart Wool because Smart Wool doesn't have this super fine wool in a dress sock.


Verified Buyer

Reviewed by TallTexan from TX on Monday, September 26, 2016

These are my husband"s favorite socks. He swears by merino wool for his boxer briefs and his socks, and that is the only fabric that he will wear for these garments. He likes these socks for their light weight and odor inhibiting features, and wears them for office, dress, casual, hiking...basically the only socks he will wear. I give them 4 stars as I don't see them as "perfect" since I consider them a bit "high maintenance". I wash them only in cold water on the Wool setting of a front loading washer, and I hang them to dry; they are too expensive to risk shrinkage. They do get thin and develop holes fairly quickly, but I think that can be attributed to daily wear. I do wish that they were more durable in that department.

Verified Buyer

Reviewed by las30 from California on Thursday, September 22, 2016

The socks look nice, but these run huge. I bought them for my son who is a size 11. He needed them for a theater performance. Unfortunately, he won't be wearing them until he reaches a size 13 or 14 if he ever does.

Verified Buyer

Reviewed by JBV from North Carolina on Tuesday, July 19, 2016

I ordered these socks for my son, whose feet are very wide (12 EEEE) and the L was more than large enough. Seem like good quality dress socks.

Verified Buyer

Reviewed by Mtn. Guy from SC on Thursday, June 2, 2016

Great wool blend. Light weight and comfortable.

Verified Buyer

Reviewed by Soloyankee from Texas on Thursday, March 31, 2016

I am glad that STP sill has these in stock and I have multiple pairs in each color.
They are great overall dress sock.
The material is comfortable and they are lightweight without being too thin.

Verified Buyer

Reviewed by FairPlay from Maryland on Saturday, March 19, 2016

Please...DO NOT BUY THESE SOCK!!! Initially, they appear fine but after 1-3 wearings/washings they develop holes and must be thrown away. I'm so disappointed that I will consider not shopping with Sierra Trading Post again as I spent more than $100 on a number of pairs!

Verified Buyer

Reviewed by Alan from NYC on Wednesday, January 20, 2016

There are no finer socks in the world., To find them at this price made my winter.

Reviewed by jenniewren from Upstate NY on Wednesday, December 16, 2015

way over-sized. Love the socks but have to return the large for medium. Petunia at Sierra Trading Post made the exchange so simple and will receive the medium size before Christmas. Could not be happier with the company or the quality of the socks.

Verified Buyer

Reviewed by El Hefe from Missouri on Monday, April 6, 2015

Colors work well with any professional wardrobe. Only negative is that the socks tend to slide down after a couple of wears. Opt for the over-the-calf if this is a concern.

Verified Buyer

Reviewed by LOC RC from Washington, DC on Friday, December 26, 2014

These socks are terrific, and a good deal.

Reviewed by wdp from Michigan's Upper Peninsula on Monday, September 29, 2014

I ordered several of these socks, having been delighted with similar "over-the-calf" socks from Pantherella. I received four that were correctly sized (R, for my shoe-size of 10.5), and two that were ridiculously large. When I told that to Sierra Trading Post, they sent a replacement. Also way too large. So, based on my several pairs, I conclude that there is some problem with labeling, and that some socks are properly sized, and some are designed for clown-feet but labeled as if for us mortals. It doesn't seem that returning large socks will result in correctly sized socks, since it seems random. Too bad; I enjoy STP for everything, but this is disappointing.

Verified Buyer

Reviewed by Kevin from Alabama on Thursday, July 24, 2014

These are great socks for the best price I could find on the internet. The 'R' are a little larger than normal but not enough to be uncomfortable.

Verified Buyer

Reviewed by Sean M from Seattle, WA on Monday, May 19, 2014

I purchased the size R, which is supposed to fit US size 7 - 11, and it was huge. I wear a size 9-9.5 and there was no way this sock would fit me.

Reviewed by JoJo from Ohio on Monday, January 20, 2014

I assumed these socks would be warmer/thicker. They are of nice quality and will be great in summer, but in winter I have to double them up, glad I bought 4 pairs.

Reviewed by Robert from Boulder, CO on Tuesday, January 14, 2014

I can't say much about the quality or comfort of these socks since they were so large that I could my wear them. I wear a size 10.5 shoe and ordered size large as I do with all socks, but these were so large that they would have fit a size 15. I had to return them but I'm being charged $8 to ship these two pairs of socks back. Not such a great deal.

Reviewed by Trudi from Florida on Friday, January 3, 2014

Silky to the touch, very soft and beautiful socks. My father will be very happy to wear them. They also look like durable socks.Will be buying more.

Reviewed by Rvr2mtn from Columbia River, Oregon on Wednesday, December 18, 2013

My wonderful hubby is very picky about his socks on his delicate man-feet. They can't be too thick, they need to be thin, they have to be the right fabric - and what works usually starts at about $40/pair. These British wool wonders do the trick. They are repeat purchases - I find only on STP and get them every now and then. At under $20, they beat the ones that cost double from Nordies. They do wear a little faster, but now that Mr. pretty-feet joins me on regular pedicures (and sorry, honey, I am not clipping your toenails), they wear a little longer.

Reviewed by krisminn from Minn on Wednesday, December 18, 2013

good size, length, thickness, warm

Reviewed by Smart Shopper from Boston, MA on Wednesday, November 6, 2013

Simply great ultralight dress sox

Reviewed by Bill B from Nevada on Thursday, August 29, 2013

Good quality dress sock. WEould buy again

Reviewed by MacDaddy from New Orleans on Thursday, August 22, 2013

This is my second round of buying these socks. I bought a half-dozen pair about 5 years ago, and they've served as my primary daily dress socks. The 5-year-old ones are still in decent shape, with wool that's thinning but not holey, but the elastic is getting a bit loose so I've replaced them with another half-dozen pair.

Reviewed by Tim from Georgia on Monday, July 29, 2013

The sock was thinner than I thought, but it makes for a very good dress sock. Very comfortable. Looking to buy more.