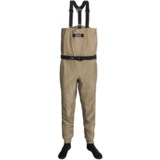 2nds. Patagonia's Watermaster chest-high waders offer a waterproof breathable H2No® Hydrostorm shell that is tough and comfortable, 3mm neoprene feet and includes a quick-release belt.
Average Rating based on
13
reviews
4.307692
0
5
Verified Buyer

Reviewed by John W from Billings, MT on Wednesday, August 6, 2014

Getting Patagonia waders for $130 would have been a great score, and you'll never be able to get them that cheap anywhere. Here's what you need to know about how these run size-wise. I am 5-9, 175lbs. I ordered the only size available at the time, Large King. King means heavy-set. The length of the legs/inseam is probably the most important factor in waders. These were exactly the right length. Which means a large is good for a man of average height. However, the King width/girth on these would accommodate an extra 50+ pounds. They are rotund - you could wear a couple of down coats and still have room. Feet were right for 10-11 size. If these waders are ever offered in a large regular or a medium long I'll be ordering them.

Verified Buyer

Reviewed by Live2Fish from PA on Monday, August 4, 2014

I have done a visual and they look great, only problem is that I have to store them and wait to use them. Hopefully, no leaks when I do pull them off the shelf but that depends on the Caddis pair I bought from you and how they hold up.

Reviewed by Silver Yaker from South Carolina on Wednesday, April 16, 2014

Got these waders to replace the Cloudveil 5 layer Gortex waders (that I purchased from STP several years ago) when the Cloudveil's developed a seam leak between the bootie and the leg. The Cloudveil's are my comparison point as reference. Have about seven full days on the water with the Watermaster's (often chest deep) as my current experience with my new waders.

Watermater's are not nearly as heavy duty as the Cloudveil's, but still leaktight and very comfortable. 6' 200# w/10 1/2 shoe - got the L-K. Fit is good for me. Lots of extra room up top for layers, but the elastic bungies at the armpits plus the wading belt take up the extra room when I'm not layered up. Boot fit is great. Things that I liked better about the Cloudveil: CV had two external zip pockets vs. one internal zip on Patagonias. Gravel guards were about one inch longer on the CV so the Patagonia guards seem a little short. CV had 3 belt loops for the wading belt (1 back, 2 side vs. one in the back on the Patagonia. CV more heavy duty than the Patagonia. Permanently attached suspenders on Patagonia make it slightly harder to get in and out than the CV which had removable suspenders.

Things that I like better about the Patagonia Watermaster: Gear attachment points on the front of the Patagoina when I want go "ultralight" with no vest or pack vs. none on the Cloudveil. Patagonia is going to be in business if (or when) I have a leak so I have an option for repair vs. no response from the new owners of Cloudveil. Wader top can be "lowered" with the suspender system to waist high without removing the suspenders on the Patagonia vs. no comparable feature on the CV (Note: While Patagonia suggests that this feature allows "relief" without removing the suspenders, I'll be darned if I can figure out how to relieve myself over a waist high wader without making one heck of a mess.)

Overall, functional, comfortable, breathable waders. Great value - especially for the price. Prefer the additional features that the Cloudveil offered, so suspect that I'll move up to the Rio Gallagos/Simms G3 or G4 level for my next pair. Never the less, I believe that it will be many years of great service from these waders before I need to get my next pair.

Reviewed by yard-dart2 from WAY UP NORTH CALIF. on Tuesday, February 25, 2014

I purchased these as an inexpensive pair of "back-up" waders. I've seen a few well planned float & fish trips turn very uncomfortable and costly due to damaged, faulty and even forgotten waders. These are very packable and easily included on trips where minimal gear/weight is important. These waders are roomy in the upper body which is good for my body type (XLS), permits wearing layers without constraint, and the foot size is roomy without being TOO big, I wear size 9-11 in Simms waders. Not enough pockets but again, I'll make do. The only real negative issue I have is the gater/ankle gravel gaurd is gortex with elastic band. These tend to hold water when you get in the boat after wading. after several times in and out your boat will have more water than your guide will appreciate but not so much he can't get it out quickly. My Orvis and Simms waders have neoprene gaters with a hook keeper. The suspenders are adequate for holding the waders up and have plenty of adjustment but be advised they don't quick disconnect (lock/snap) like the Simms so it's a bit of a wrestling match getting into them. I have a four day steelhead fishing trip coming up that will be the first chance I have to use these, or hopefully not use them. For my intended use and the price I hope I've made a wise purchase. I'll report on my findings at a later time.

Reviewed by Bonswa from NM on Tuesday, January 28, 2014

A good quality buy. I ordered the size L - King. I am 6 foot 2 inch tall - 200 lbs- and wear a size 12 shoe. The foot fit is snug but not overly tight. Otherwise all other dimensions fit great.

Reviewed by dennisandtrish from california on Saturday, January 11, 2014

Ordered the XL short...Patagonia size chart says these should fit a waist 36-38...I'm a 36 and these things are big enough to fit 44" waist with a big fat parka on...I understand the importance of a "loose" fit for layering and free range of motion but this is ridiculous.

I'd exchange them for a smaller size but there's nothing left!

Reviewed by Bckcast from Biloxi on Wednesday, November 20, 2013

Okay, at least the time in my life I wear waders. These waders are easy on-easy off. I don't have to struggle to get them off after wading.
I like the way the shoulder straps just shrug off allowing me to relieve myself easily without a lot of hooptedoodle.
I'm 5'8" 250lbs, and the XL Short fit perfectly. What a great product!

Reviewed by Midwest from Missouri on Wednesday, November 13, 2013

Bought these for an amazing price. Basically robbed STP. Customer service is incredible. I had no idea how good it was until I bought these. The watermaster waders are by far the most comfortable, warmest, and best looking(not that it matters) waders I've ever seen. I started out with some generic neorenes because like many I went the cheap route over quality the first time...big mistake. If you're even considering these waders then you'd be an idiot not to buy. My local shop sells them for 230 and that's on sale. I paid 140 and they upgraded shipping for free because they know how to treat customers. If you buy these waders and you're not happy with them...you're probably a heavy drug user.

Reviewed by Matt from Tucker on Tuesday, November 12, 2013

Well made product overall except for one detail - the booties. The Interior seam of booties were not well finished or taped over and rubbed against feet and toes.

Reviewed by phlyline from Asheville,NC on Saturday, September 21, 2013

Have been in the fly fishing business for 5 years and fly fished for25 years. Have had many pairs of Simms and Dan Baileys and wanted to try Patagonia. The breathability is very good and the material is rugged but not too stiff. The sizing was perfect for me. I'm48 chest 34 waist 31 inseam size 10 shoe. Bought a Medium King and everything fits great. It's a loose in mid section but from what I read they designed it that way so you can layer. Clips on suspenders allow you to convert to waist high easily. Above average quality and design.