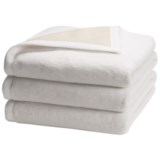 Overstock. Peacock Alley "My Favorite" Queen blanket will be your favorite, too, once you experience the plush softness of Egyptian cotton fibers in such thick and glorious abundance.
Average Rating based on
55
reviews
4.672727
0
5
Verified Buyer

Reviewed by Kristine Around Town from Boston, Mass. on Monday, December 21, 2015

As described by STP this is a soft, plush brushed cotton blanket in appealing neutral colors. Like all brushed cotton bedding, whether flannel sheets or blankets, it sheds a lot at first, especially with the first washing, Be careful to wash/dry on lowest heat otherwise cotton blankets will shrink a lot and the binding will buckle.

Verified Buyer

Reviewed by Sylvia from Maine on Tuesday, November 10, 2015

The blanket is a nice weight. It isn't heavy on you but it is substantial and stays over you nicely. Since it is new, I can't report on how it will look after washing, but I will follow the directions exactly. It is definitely a good value for the sale price that I paid.

Verified Buyer

Reviewed by Louis15 from Ohio on Wednesday, September 30, 2015

Washed up beautify the first time. Warm and Cozy.

Verified Buyer

Reviewed by On step at a time from Scarsdale on Wednesday, September 2, 2015

Totally divine!

Verified Buyer

Reviewed by Thrifty Maven from MA on Tuesday, August 25, 2015

This was recommended to me by my sister, and it is probably the nicest blanket I now own.

It's warm, but not too heavy; soft as fleece, but yet it's cotton.
I guess it's only draw-back is you have to be careful washing/drying it, so not to shrink it with too much heat. But that's what cotton does, so you may want to order the next size up to compensate.

Verified Buyer

Reviewed by asdkl from Virginia on Monday, July 20, 2015

So much nicer than fleece.

Verified Buyer

Reviewed by Nyla from oregon on Monday, June 22, 2015

This is the perfect blanket to replace my down comforter for a switch into spring. It's soft and well made. It's a bit hot on the high 80 degrees nights but by cool morning, ti feels good again. I hate synthetic feeling blankets and this one feels like soft, gentle cotton.

Verified Buyer

Reviewed by GrammyC from Oregon on Saturday, May 30, 2015

Peacock Alley products are the best. Quality superb! Usually quite expensive, however, here at STP, affordable. Would buy more when they are on super sales again.

Verified Buyer

Reviewed by Liz shopper from PA on Thursday, May 7, 2015

The blanket is lovely to look at, is warm and substantial. Nice that it is reversible. Am not upset with lint in the dryer; I'm not a wimp. It IS a cotton item; lint is to be expected - DUH!

Verified Buyer

Reviewed by Ruth from California on Saturday, April 25, 2015

This is a gorgeous blanket - soft, warm, and thick.