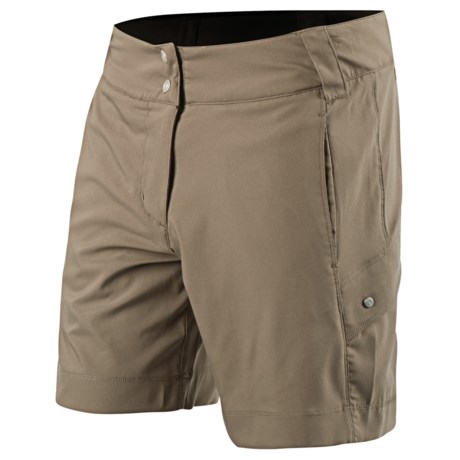 They have an insert. The shorts themselves are not padded. I had to buy a bigger insert for these small shorts, because the insert was too small, but the shorts fit great. I love the shorts, they feel great and with my new liner insert, perfect! Good Luck!

They have a chamois, it's a pair of tight shorts (MUCH tighter than the outer shorts) and they are removable. They hook on to the outer shorts on the inside on each side with a clip

There are a pair of spandex shorts (see through) that snap inside. Where the spandex shorts are padded, but the outside shorts are not.

The shorts are not padded, but come with a separate insert that is padded. The insert can be attached the short with a button and easily removed. The shorts can be worn with or without the padded insert. The insert runs very small... even the M short , which is big on me, the insert is small. But I love the short for hiking and riding my bike when I don't need an insert.

I don't understand the difference. Please explain. Thank you, Gayda.

The Pearl Izumi Canyon shorts have a removable inner liner that is padded.

These shorts do have an insert. The padded part can be removed from the women's version of these shorts. I found them to be extremely comfortable in every way. I'm 67 and my husband and I bicycled 700 miles last summer, camping along the way.