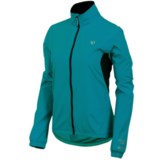 Closeouts. Lightweight and packable, the tightly woven polyester fabric of Pearl Izumi's SELECT Barrier jacket sheds water and blocks wind so you stay protected.
Average Rating based on
28
reviews
4.214285
0
5
Reviewed by All season cyclist from Washington, DC on Thursday, January 26, 2017

This jacket does an amazing job of keeping the wind off. It's perfect when all I need to do is lower a wind chill but without adding a lot of weight or warmth.

Reviewed by SecretCity Bargain Shopper from Oak Ridge, TN on Tuesday, May 17, 2016

I LOVE this jacket. I have worn it for a number of rides on chilly mornings, and it does a great job blocking the wind when I tear down a hill. It is very lightweight, too, so when it is time to shed a layer, it packs up into my saddlebag easily. A word of caution: it is WOVEN. That means it doesn't have any give, so the fit will be important. I am glad I ordered a medium, even though I usually wear a small. The jacket is snug but fits comfortably over my cycling jerseys. A small would not have fit.

Verified Buyer

Reviewed by Sacto runner from California on Monday, October 26, 2015

I needed a new "in-between" jacket, one that wasn't a heavy winter-weight jacket, but not a flimsy, gauzy weight one either. This on fit the bill perfectly. And it looks great. I wanted one a little roomier for commuting and layering, so I ordered a size up and got medium. Otherwise, the small would have been a more tailored "race" fit for road cycling. I'm extremely happy with the purchase.

Verified Buyer

Reviewed by js from buffalo, ny on Wednesday, April 22, 2015

I purchased this as a gift for my sister-in-law. She loved it and cannot wait to use it for running.

Verified Buyer

Reviewed by pipi from colorado on Tuesday, March 24, 2015

I got the small jacket for a more fitted running windbreaker. The fit is great ( I am 5'7). I recently wore it for a run on an overcast 50 degree day in a dry climate (Colorado) and was surprised that it retained moisture inside the jacket quite a bit. The material is not quick-drying, the inside stayed significantly damp, even 2 hours after I took it off from wearing it on the run. That may be why it is described as "tight knit". The upside is that it does block wind well, and is warm enough to wear with only a T shirt on a chilly day. Overall, it is a quality jacket, I am glad that I purchased it. And, I have received compliments on the vivid purple color.

Verified Buyer

Reviewed by hereyago from Portland, OR on Thursday, November 20, 2014

I needed a dayglow jacket, and this fit the bill. It is water repellent and subsequently not terribly breathable, but it does what it's intended, and I feel safer riding at dusk. I'm 5'4", 140lbs. I got the medium. It fits well, though I don't have a ton of extra room. I have hips, and the jacket is definitely snug around the bottom. Ordering a size up wasn't an option at the time, and I think I like the lower profile of the medium, though it does limit my layering options.

Verified Buyer

Reviewed by MotherRunnerof2 from Maine on Wednesday, November 12, 2014

I ordered this jacket after reading multiple reviews on the web about it running small. I am 5'7", 135lbs, slimmer on top than bottom, and I ordered a large. It fits perfect, although could stand to be a little bigger for my liking. I bought this jacket for visibility and wind/rain resistance for my late afternoon runs in Maine. Now, I'm not sure this jacket is only for biking or what, but it was perfect for me to run a 4 mile run in 45 degree weather. It wasn't raining, but it definitely kept the wind out and the warmth in. No need to wear layers when wearing this jacket. I wore a long sleeve wick shirt and was quite toasty after 4 miles. The things I love about this jacket are: It doesn't rid up or shift while running; the reflectors on the back, sleeve and chest; the zip pocket on the back; the softer material around the neck that keeps it from irritating my neck and chin while running. This jacket has been great for my short runs in 40-50 degree weather. Looking forward to testing it out as the days get colder. Definitely SIZE UP. I'm not sure why this brand runs so small. Hope this helps.

Verified Buyer

Reviewed by Lisa from Baker City on Tuesday, November 11, 2014

This jacket is perfect to stuff in a bag and bring it out when needed. The style is very slimming. It runs just a bit small I take a Medium but found it a little snug so I sent it back and got the Large. Fit just perfect. I would buy this jacket again.

Verified Buyer

Reviewed by Mtbcyclist from Atlanta on Friday, October 31, 2014

First of all, I ordered up to a small when I usually go XS to S in PI. I feel the small is pretty wide, but I suspect XS would've been too tight in the shoulders. This should maybe get more than 3 stars if you know what you're getting. I was expecting a thicker material. This was thinner than my tent. It def won't do anything outside of block some wind. I can't imagine it being good rain protection, but I haven't tested it. I am unsure if I will keep it. I am tempted to keep it for the low price, but the. I have to really consider if I will ever actually wear it. Nice zipper in back. Very thin. I like the red.

Verified Buyer

Reviewed by Sandy from New York on Wednesday, October 29, 2014

Well made. Great detail.