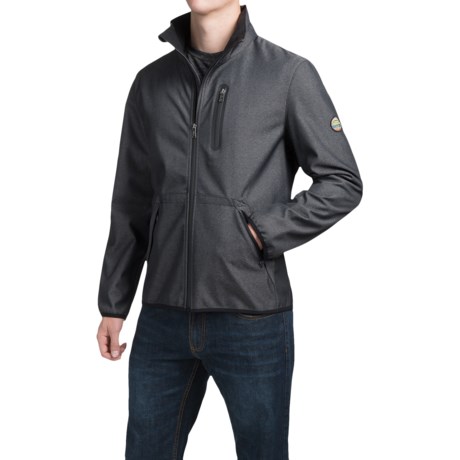 Great Material, Very Poor Fit
Verified Buyer
Reviewed by Adam from Placerville, CA on Thursday, February 2, 2017
This jacket was made of the right stuff, the material is great and is very waterproof. All of the zippers and seams feel very durable and the jacket seems like it would hold up for a long time. I love Pendleton quality goods and this jacket had subtle branding accents that I liked a lot, mostly that it is part of the national parks line. I bought it to wear over collar and tie for casual days at work as a somewhat fitted jacket, or just to wear with jeans and a crew shirt. I have a nice Patagucci fitted polartec wind shell that is very similar and I thought this jacket would be a perfect supplement to that so I don't wear them out as quickly.

While the material was awesome and the zippers, cuffs, and design idea seem like great quality for the price, the shape and fitment of this jacket was very VERY poorly executed. The sleeves were shaped and fitted in a way that wont allow you to raise your arms above mid chest without major bunching of material at the shoulder restricting all but the most minor arm movement. The sewing wasn't necessarily the problem but that the fabric was cut and shaped all wrong prior to piecing the arms to the chest. The arms are sewn very low in the armpit and if you can manage to raise your arms above your chest in front of you the bottom of the sleeves restrict upward movement and take up 3 inches or more of sleeve length with your arms outstretched. There is a lot of extra material below the chest too in the belly area. I am a slender build and wear a medium in everything and I could probably gain 50lbs or more in my belly and still fit in this jacket and I am 5'9 150lbs.

I wanted to keep this jacket so badly and even at around $30 it is just unusable. This is totally a case of doing a really bad job on design fitment, material quality, hardware, design and brand idea else was great. I can understand that Pendleton would want to corner a more affordable clothing market but this China-made jacket falls very short on fitment alone, enough to render this thing completely useless. Pretty ironic that a classy American company like Pendleton would outsource a National Parks line to China only for it to turn out terribly. A jacket that doesn't fit right is useless no matter what its made of.
Most helpful positive reviews
Most helpful negative reviews
Similar items and more information in the following areas: