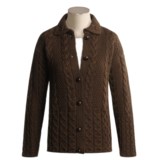 Closeouts. Warm up with Peregrine by J.G. Glover's cardigan sweater of pure merino wool -- a classic piece great for cold, wintery days.
Average Rating based on
201
reviews
4.308457
0
5
Verified Buyer

Reviewed by Shopper from MA on Wednesday, January 28, 2015

I have this sweater in 3 colors now. I get many compliments on them. Two of them have very long sleeves that I roll up, and the third has sleeves that are just a bit on the long side--which works fine for me. The sweater is warm, not itchy and not too bulky.

Verified Buyer

Reviewed by DeeDee from Michigan on Saturday, December 27, 2014

Perfect sweater for cold winter days. Fit is true to size. Soft wool, very comfortable.

Verified Buyer

Reviewed by Sarah from California on Sunday, November 16, 2014

This sweater is a soft, warm classic with an unusual cable pattern. I first bought one in medium 2 years ago, and it shrunk over time so I gave it to a friend. I am so happy to see in stock again. This time I ordered a large.

Reviewed by SHarpy from Hudson Valley, NY on Wednesday, January 29, 2014

Visually, this sweater looks good, holds its shape, and is a nice color. Warmth-wise, it is very warm! Good for places that are not overheated.

Reviewed by traveld from Montana on Tuesday, September 24, 2013

I really wanted to like this sweater. I have a lovely pea coat by JG GLover and felt confident ordering the sweater. It's terribly difficult for me to find quality sweaters in my size that have long enough sleeves (I need a minimum of 24" from the shoulder) so when I read the reviews about the sleeve length, I thought this would be the perfect sweater for me! And the sleeves do (just!) fit. I am a size 6-8 and the medium fit fine, but I agree with other reviewers that the sizing could be variable as they are hand-made. I bought a sweater in Ireland and tried on half the store before giving up and having one custom made (due to my arms) so I can attest that sizing is more a suggestion than a standard!

But the button closure detracts so much that I am returning the sweater. The wool is very soft and stretchy (it's not merino wool, BTW, it's new wool- although that discrepancy doesn't bother me), and the placket should have been reinforced with grosgrain to keep it from pulling so much. The buttons are faux-leather and loosely attached- I would have been happy to swap them out myself but it's not worth it. I'll give JG Glover another try with a crewneck sweater, but no more cardigans. It'd be fine with jeans, but if I can't wear it out I'm not interested.



Reviewed by Miss Lori from New Mexico on Saturday, August 17, 2013

I just wrote a review on this, but noticed on the website the sleeves are cuffed up. Why in the world would you do this, as the detail on the sleeves are outstanding! Don't get this one; at all! P.S. If you are considering buying this, don't wait you will not regret your purchase at all!!!

Reviewed by Miss Lori from New Mexico on Saturday, August 17, 2013

This sweater is amazing. The detail is fabulous, no doubt a Win! And the leather buttons what a plus, only downfall is there is not an extra button. I just bought my 3rd one today. I wish they had the Ecru in stock in a large, as this was my 1st one. Which I can not tell you how many compliments I received on this last year. What is so awesome about this sweater, is if you are feeling a bit lazy on a work day, simply put this on over a blouse / turtleneck and you will look finished... & receive compliments.
In regards to the sizing I have purchased 3 Larges & am 5 & 3/4 tall, weigh 125 pounds. The large is most certainly a large. The sizing is true & does not say Plus Sizing!
I will add this is the softest wool I have ever felt in my life, feels like silk.

Reviewed by Office Rat from New Mexico on Saturday, April 27, 2013

This is a high quality, well made traditional sweater. The denim blue color depicted on the web site is fairly accurate (some may call it a little drab, almost grey), so don't order it expecting to get a bright shade of blue. It's a fairly heavy knit, wonderful for a cold day. The fit is good - I thought the model in the photo had freakishly long arms, but on closer inspection I see the cuffs are rolled up.

Reviewed by Red Neck Vintage from Montana on Monday, April 1, 2013

This sweater is wonderful. It is warm when Montana isn't. It was shipped and received in proper time. To purchase this item is a good choice.
You will love it too.

Reviewed by Aemilia from Maryland on Monday, February 25, 2013

I see another reviewer commented that the XS she received was 18" wide; I ordered the XL and it too is 18" across (36" around). I realize that this is described as a classic fit sweater but 7" of negative ease is just a BIT snug. The XL is described as size 18-20 and a 43" inch chest for this sweater so I did kind of expect a somewhat larger sweater than this one. A shame.