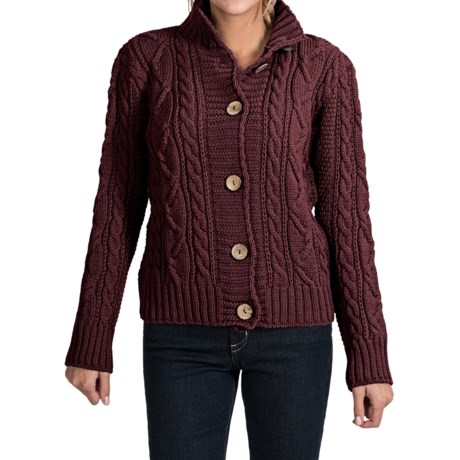 Soft, high quality sweater - not chunky
Verified Buyer
Reviewed by Rachel A from Boston, MA on Saturday, November 24, 2012
The first thing I noticed when I opened the bag was how soft the wool is.
I am very sensitive to itchy or poor quality woolen goods - but there was no itch factor here, not around my neck nor at the sleeve bottoms.
The sleeves are slightly snug on me and the length is longer on me than it looked in the picture - but I am 5'2" tall.
I thought this would be a more "boxy" sweater, which would be a con, except that it is nicely form fitting - it looks quite good on me, although it is much longer than I expected.
The quality is the highest - no loose threads, exceptionally thick and cozy.
I also like fact that this sweater is made in England, not in China or another third world country where workers are taken advantage of.

The overall length and narrow sleeves/long length of the sleeves are issues that have made me consider returning this lovely sweater. I would say that this would not be an issue if you are 5'4" of taller - also this is a matter of personal preference. For now, I have kept it in the bag until I have a chance to wear it for at least ½ hour around my home and see how it works out.

This sweater runs slightly small - you may want to order up to the next size, if you want a more boxy fit, but I must say, the charcoal color is very flattering.

This will be perfect in the very cold weather or on warmer days with no jacket over it.