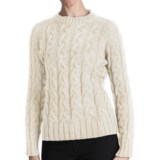 Closeouts. This cable crew sweater from Peregrine by J.G. Glover brings rows of classic cables and soft merino wool together in this quintessential cold-weather sweater.
Average Rating based on
82
reviews
3.939024
0
5
Verified Buyer

Reviewed by SSW from Virginia on Thursday, December 17, 2015

The yarn in this sweater is prettier than the picture suggests. It has very subtle color variations that give the hue a nice depth and almost hand-made look. It is just long enough to comfortably cover the waistband of my jeans--no cold drafts!--but not so long as to look frumpy. The wool is soft and not scratchy.

Verified Buyer

Reviewed by cindy lou from Louisiana on Wednesday, September 9, 2015

Beautiful, well-made sweater. I subtracted a star because it is a little itchy, but that what layering is for!

Verified Buyer

Reviewed by Vishnu Rocks from NJ suburb of Manhattan on Wednesday, August 19, 2015

To me, this sweater represents the best of what traditional British style has to offer. (We are definitely NOT talking about cutting-edge stuff like McCartney & McQueen here of course -- this is old-school, conservative, traditional stuff! Tweedy, quiet-good-taste kind of stuff.) This sweater is a perfect example of form-follows-function. The sweater is in every way designed to be warm and cozy and it succeeds PERFECTLY in this regard. If you buy your correct size, the sweater will be form-fitting (NOT tight) and therefore super-flattering and feminine-looking in my opinion. If you prefer something slouchier & more comfortable, and you want to be able to layer other sweaters underneath it, simply size up. My house gets very cold in the winter and I also spend a lot of time outside walking my pug dogs, so I'm sure I'll get lots and lots of use out of this beautiful sweater. I have another J.G. Glover sweater as well and I love that sweater too. NOTE ON THE GRAY COLOR: it's TWEEDIER than it looks in the photo. In my opinion, that makes the sweater looks even classier and more expensive. This is as beautiful and warm as a functional sweater can possibly be! I will treasure this purchase for years.

Reviewed by ShowMe from Missouri on Thursday, May 14, 2015

Bought this in XL in Gray. It fits my size 16 very well with plenty of room for a shirt/t-neck underneath. Yes, the weave is a little looser, but with the gray color, it doesnt show through as much as a very light or very dark color would. I didn't find it to be itchy and I'm usually rather sensitive to scratchy wool against my skin.
The reason I'm rating a 4 instead of a 5 is because of the color. The zoom picture of the gray depicts it as a solid gray. That is not the case. The yarn is muted gray, blue, green and lavendar...with gray the predominate color. From a disance it looks gray...a rather unique shade of gray that's hard to define. Up close, you can definitely see the varigation in the yarn. Because of the great STP coupon price, I'm keeping it. It's just not the solid color I wanted.

Verified Buyer

Reviewed by Math Teacher from Ohio on Wednesday, January 21, 2015

This sweater is all that I wanted in a wool sweater. It is soft, very warm and well made. The color is slightly different than protrayed here though. I would describe it as an overall medium taupe gray but on closer inspection you see hints of aqua, maroon and gold in the knit. I think this is a plus as I wore a pink shirt underneath which looked great. I teach high school students and one student said "Ooo, I like your sweater!" and she reached up and stroked the sleeve so I would say it is a hit! This is a deal and I will be on the look out for any sweater made by Peregrine in the future.

Verified Buyer

Reviewed by b1bvwwg from Pittsburgh, PA on Sunday, January 18, 2015

Very disappointed, I returned this sweater after such high hopes. It was itchy, way to big and the stitch in the yarn was very loose, so you can really see through the sweater. I normally wear a medium and don't think even a small would fit.

Also, I returned it and they were very slow with the refund...I'm still waiting and it's been over 4 days since I got confirmation they got the sweater back!

Verified Buyer

Reviewed by Daypack and hiking buyer from Brooklyn on Saturday, January 10, 2015

I was expecting something far heavier and more substantial. This is a really lightweight sweater, and it looks and feels stretched out.

Verified Buyer

Reviewed by Molly from Ohio on Thursday, October 30, 2014

I was looking for a classic Fisherman type sweater to keep me warm this winter and this sweater seemed to fit the bill. 100% wool in a classic cable design. Unfortunately when I received it, I found it to be loosely knit and the yarn on the thin side.

I tried it on and it looked really good, but my tee shirt showed through the sweater.

I would be willing to pay twice as much for a sweater twice as substantial. Unfortunately, I will be returning this one.

Reviewed by susan b from CT on Monday, March 24, 2014

very nice sweater, runs a size small. i.e. if you wear a medium buy a large or extra large

Reviewed by Selective Shopper from Oregon on Thursday, February 27, 2014

I find it hard to find good wool sweaters. So I was pleased to find this one, made in England. Will always be in fashion. I now have another in white.