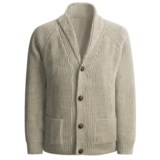 Closeouts. If there's any doubt as to the pedigree of J.G. Glover of England's shawl neck sweater, you'll think twice once you've discovered it's made of merino wool from British sheep... treasured for its warmth, comfort and strength.
Average Rating based on
97
reviews
4.402061
0
5
Verified Buyer

Reviewed by cavaliersam from Montana on Wednesday, January 25, 2017

Looking for a wool sweater that fit well and was thick enough to wear over a shirt to work. The size is misleading, I normally wear a large, size 44 and based on the reviews ordered this in a size XXL. It fits just right, even a little fitted/snug in the arms and chest.

Verified Buyer

Reviewed by desertstella from yucca valley, ca on Wednesday, December 21, 2016

I have bought a couple to give to my brother, but I'm keeping this one. Would love to have it in charcoal, but it looks like they are no longer available.

Verified Buyer

Reviewed by John the kayaker from Southern Pines on Thursday, December 1, 2016

This is obviously a high quality garment in every way!

Verified Buyer

Reviewed by Sergey from Mid-atlantic on Wednesday, November 16, 2016

This sweater has relatively heavy weight, but the wool is soft and comfortable. It fits reasonably slim, but not tight. The brown color looks very nice. Construction quality is great. Unfortunately the shawl collar does not work well for me, so I returned it.

Verified Buyer

Reviewed by Kat from Calif on Monday, November 7, 2016

I was looking for a sweater with leather buttons for my husband Christmas present !

Reviewed by TT97 from VA on Saturday, May 21, 2016

I worried about sizing and almost didn't buy it for that reason. I'm a 38S (5'9", 158 lbs) in suits and a 15/32 in dress shirts. The medium fits me very well. I have a thick chest and shoulders (lots of pullups) and flat stomach but am not at all "jacked"--and the fit for both areas is spot-on. Not tight at all but not blousy. It is sort of a relaxed fit down at the sides, but that works for this sweater, being so cozy and professorial.

The sleeves on me are slightly long; I have to turn up the ends--but I have to do with just about every sweater I own. If my arms were any shorter, I could get a part on Game of Thrones. The hem (torso) hangs to the top 1/3 of my rump--right where it should. SO glad I didn't buy the large size! I suspect the small (had it been available) might also have worked.

As someone noted, the material is soft (being new merino wool, as stated on the tag) and not super-thick, like some Nordic sweaters. More like a shaker knit; held up to the light, you can indeed see through it. But in my book, that's a good thing, because most office buildings are overheated in the fall and winter.

The leather patches are a little far down, starting just above the elbow bone and extending partly down my forearm, but that also is not bad, because I'm always putting my forearms on the keyboard/desk/table. So this will probably prevent snags/wear. And you don't really notice them in this color; the brown patches blend in with the tan.

The color of the tan version is almost a deep olive--not green at all but about the darkest tan you could imagine. I like it a lot.

If there's a slightly weak point, it would be the buttons; close-up, you can tell they're not woven leather but a printed plastic, or perhaps wood. Not a big deal. They seem to be attached securely; time will tell.

Very happy with this sweater!

Verified Buyer

Reviewed by BuffaloBookworm from Buffalo on Monday, February 15, 2016

I found my J.G. Glover shawl-neck cardigan to be very comfortable and well-made. My only complaint was that their sizing runs very small, so it took me a couple of tries to find one that fit. I'm a size 44 chest. According to the tags, a size large fit chest sizes 42-44, so, I ordered a large. It fit really well in the collar (16.5 or so) and sleeve (approximately 35.5), but was so tight in the chest that I could barely button it closed, and the sleeves were so slim that they bordered on being too tight. I returned it for an extra large, which fit better in the sleeves (36" or so, and a fuller, less-tight sleeve), but was only slightly roomier in the chest. I ended up with a size XXL (labeled for chest size 50), which is larger than what I wear in almost any brand. The only other brand in which I wear XXL is another British company, so perhaps the difference is simply attributable to U.S. versus U.K. sizing. Similarly, my father, who wears a 42 long sportcoat, had to order an XL. If you buy one, definitely order one at least one size larger than what you normally wear.

Verified Buyer

Reviewed by Nick from DC on Saturday, February 6, 2016

Well made and nice looking, good fit if you size up 1.

Reviewed by likes quality stuff from upstate NY on Sunday, January 24, 2016

Great looking sweater and fine if you've got a good heating system in place. But this is definetly not for outside below 35 degrees as the weave is too loose for that (for warmer it's good). The sizing is true (do not order a size up) as my size is just right. Nice elbow patches and beautiful brown buttons. Very nice and extra wool round the neck. Looks good & durable and ok for most uses, but if you go out and need something for the road, look elsewhere if you're in the northern part of the US. If it had a tighter weave and were a bit warmer, I'd give it four/five stars, but it just does not do it for the cold. It is one of the better Peregrine sweaters I've tried, and I'm keeping it because it's good for the milder weather.

Verified Buyer

Reviewed by Alfein from Salt Lake City, UT on Wednesday, January 20, 2016

This is a really great sweater. Yay for J. G. Glover! I debated for awhile because they also had a Cable Knit sweater with button front, which I found really tempting. This one won my internal debate and there is no looking back. This fit exactly as expected. It is heavyweight and is very warm. It is soft and the colors are perfect. Suede elbow patches for classic looks and extra protection. The buttons are also very classic.
This is a truly great investment for winter wear. It would be very hard to top. Highly recommended.