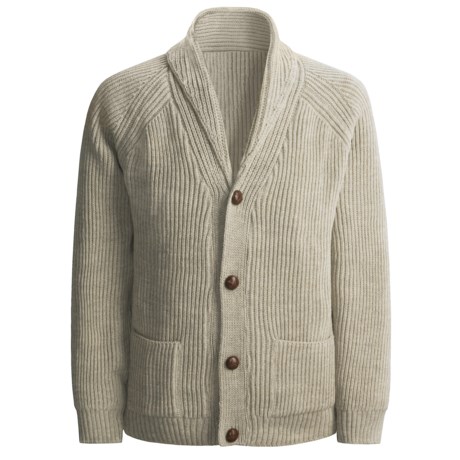 Good Fit (Medium), Made in England--and it IS Merino Wool
Reviewed by TT97 from VA on Saturday, May 21, 2016
I worried about sizing and almost didn't buy it for that reason. I'm a 38S (5'9", 158 lbs) in suits and a 15/32 in dress shirts. The medium fits me very well. I have a thick chest and shoulders (lots of pullups) and flat stomach but am not at all "jacked"--and the fit for both areas is spot-on. Not tight at all but not blousy. It is sort of a relaxed fit down at the sides, but that works for this sweater, being so cozy and professorial.

The sleeves on me are slightly long; I have to turn up the ends--but I have to do with just about every sweater I own. If my arms were any shorter, I could get a part on Game of Thrones. The hem (torso) hangs to the top 1/3 of my rump--right where it should. SO glad I didn't buy the large size! I suspect the small (had it been available) might also have worked.

As someone noted, the material is soft (being new merino wool, as stated on the tag) and not super-thick, like some Nordic sweaters. More like a shaker knit; held up to the light, you can indeed see through it. But in my book, that's a good thing, because most office buildings are overheated in the fall and winter.

The leather patches are a little far down, starting just above the elbow bone and extending partly down my forearm, but that also is not bad, because I'm always putting my forearms on the keyboard/desk/table. So this will probably prevent snags/wear. And you don't really notice them in this color; the brown patches blend in with the tan.

The color of the tan version is almost a deep olive--not green at all but about the darkest tan you could imagine. I like it a lot.

If there's a slightly weak point, it would be the buttons; close-up, you can tell they're not woven leather but a printed plastic, or perhaps wood. Not a big deal. They seem to be attached securely; time will tell.

Very happy with this sweater!