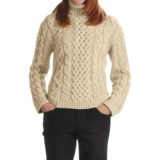 Closeouts. This Peregrine turtleneck sweater pairs incredibly warm new merino wool with intricate cable and Aran-inspired patterns to keep you cozy on brisk winter days.
Average Rating based on
112
reviews
3.919642
0
5
Verified Buyer

Reviewed by Linkbeak from Oregon on Wednesday, December 21, 2016

I was hoping for something with a denser knit, more reminiscent of a real fisherman's sweater. This is loosely enough knit that you could see the color of the shirt I was wearing under it. The construction seemed off as well. The seams around the arms were tight yet there was lots of fabric in the upper arms. And it was a squeeze to get the turtleneck over my head.

On the plus side, the overall sizing seems true and I didn't find the yarn scratchy. I returned it.

Verified Buyer

Reviewed by GM the outdoorsman from New Hampshire on Thursday, December 1, 2016

I bought this sweater for my wife and she LOVES it! It is very well made, warm, comfortable and is a classic style. The quality of the wool is amazing. One important consideration for me is that it is made in the UK. My wife is petite and the XS fits her well. I have been trying to find a sweater like this for months. This is an incredible price for a sweater of this quality. Thank you STP!

Verified Buyer

Reviewed by Toodeloo from North East on Wednesday, November 16, 2016

Bulky sweaters can look really sweet but this one does not pull it off. Wool is scratchy, cable knit is very loose and it is shapeless.

Verified Buyer

Reviewed by hjdin alpine from Arizona on Tuesday, November 15, 2016

This is a lovely sweater. It comes up high on the neck so you stay warm. The cable stitch really makes the sweater pretty. And it is nice and warm

Verified Buyer

Reviewed by Horsey Lady from SW Ohio on Thursday, September 22, 2016

This is my favorite piece of clothing in the world. Love the look, but the feel is wonderful, too. I'm allergic to most wool but this (Merino) doesn't seem to bother me. I only hope I can wash it carefully enough not to ruin it.

Verified Buyer

Reviewed by MJWhit from Boston,MA on Wednesday, January 13, 2016

It was worth the purchase I got the sweater less than a week ago and I have worn it three times. This sweater is cozy and warm, perfect for under a light weight parka in cold weather. The t neck is warm enough there is no need for a scarf.It does have a classic look and I have had complements on how nice looking this sweater is. It fits nicely and the knit is loose enough that I can move my arms and shoulders with ease. This sweater is a bit short at the waistline, it is not super soft, but it is not itchy, perfect over a turtleneck. I work outside for a good part of the day, I feel warm and comfortable in this sweater, and it looks nice.

Verified Buyer

Reviewed by tangosf from Northern CA on Monday, January 11, 2016

Classic sweater that is very warm without being too heavy. It's probably a bit too warm for my overheated office but great for other places. Bought the medium and it fits as expected.

Verified Buyer

Reviewed by momadeux from Duluth, MN on Monday, December 7, 2015

I love this sweater!!!!! Living in Duluth, MN staying warm is paramount. This sweater does the trick. I'm not cold at all when I go out in a down parka with this sweater to walk the dogs in in sometimes -25 below zero. But because it's wool, it's breathable, and therefore not too hot to wear in doors as well. I love the turtle neck and general fit. I would say it it true to size. A great buy!!


Verified Buyer

Reviewed by Horsey Lady from CW Ohio on Wednesday, November 4, 2015

This is my favorite style/piece of clothing, and had been for many years. Ivory (or a few shades darker), bulky, wool-looking cable knit turtleneck. They're also very flattering to my (something about my build and coloring, maybe? Or are they flattering to everyone? heh heh) The non-wool one I've had for a few years was so hard to get over my head in both directions, I decided to try to get another one. I'm allergic to wool, so I was a little afraid to try your Merino wool version, even though Merino is supposedly hypo-allergenic (one web site says "like most wool", though.) When I took it out of its package my hands burned a bit (typical reaction to wool) but I tried putting it on over a t-shirt and the only place it bothered my skin at all was around the front of the neck seam. The T-shirt was V-neck! I put a Kleenex there and wore it for a couple of hours. No problems! No runny nose, itchy eyes, etc. (like I had all through high school where everyone's uniform but mine was wool!) I plan to keep it and wear it with a CREW neck T-shirt in the future. Should work out fine. (Maybe I'll include a picture later!)

Reviewed by Susan from RI on Tuesday, April 21, 2015

The quality of the wool was good, but there were weird gaps and holes in the pattern, so that the sweater was like a cross between a winter sweater and a string shopping bag. Don't know if I just got a bad one but I had to return it.