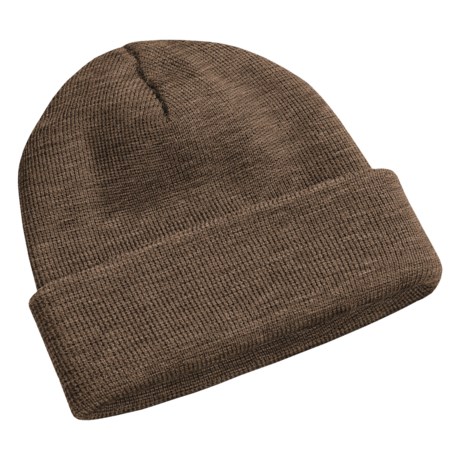 conforms to the shape of your head, low profile. Most people cuff the ends to fit the head (as pictured), but it doesn't stick out much.

For me, I roll mine up until it fits snug on the top crown of my head, leaving no gap. I imagine if you were to unroll it, and put it on your head, there would be a gap. I just measured the length from the top of the hat, to the unrolled bottom and it is 10.5".

I think you're referring to seam "corners' that stick out? Any hat with "X" seam joining the parts at the top will have slight corners that stick out. This hat has them, but because it's a soft merino wool knit, not stiff, the corners are soft and don't stick up MUCH. They're there, though. My experience is that we're either stuck with corners or a cone up there.

There may be a little bit at the corners, but this should fit pretty snug if you wear it down on your head.