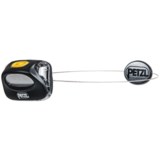 Closeouts. Petzl's Zipka LED headlamp is compact, lightweight and uses a retractable cord to fit around your head or wrist. With a wide beam for close-range work and 12 hours of burn time, the Zipka is a great garage companion.
Average Rating based on
9
reviews
4.444444
0
5
Verified Buyer

Reviewed by hiker from Sebastopol on Thursday, November 6, 2014

I like this Petzl Zipka headlamp for its simple easy to use style. The Zipka style retractable cord makes it easy to put on and take off. Also it's easy to store without a headband. The on/off switch is easy as well, it doesn't have several lighting options. It has a simple on and off switch. Great headlamp for task lighting.
The only problem I found is that it doesn't fit tight. Feels a little loose. I haven't found it to be much of a problem.

Reviewed by Mtbcyclist from Atlanta on Friday, October 17, 2014

I specifically sought this out, as I loved my previous one. I finally dropped and broke it. It actually still works but is all taped. I decided to buy a new one. I would have given it 5 stars, but it doesn't have all the light patterns as my old one. Honestly, I don't need them. My other one goes high, low,flashing. This is on or off which is all that is really needed. I love that I can keep it on my wrist. I wore it sleeping at night, so I wouldn't have to feel for a light when I have to get up to use the facilities.

Verified Buyer

Reviewed by telern from Front Range, [...] on Sunday, September 28, 2014

This is a decent light. Simple, small, no webbing strap to get in the way and lightweight. As chazzyo reviewed; no tilt feature. Not very bright. No other light beam patterns. This is a great backup headlamp should you misjudge the time on your trail run and carry a small pack.

Verified Buyer

Reviewed by Heather from Utah on Wednesday, August 20, 2014

I have been using Petzl headlamps for more than 20 years and I love the Zipka. It is lightweight, easy to use, and has exceptional battery life. I use it camping and at home on a regular basis. I always keep one in my daypack just in case. It can even be worn on the wrist, a very versatile handy product.

Verified Buyer

Reviewed by Tara Tooley from Loveland, CO on Friday, July 25, 2014

But my husband has the same one and I've been jealous for about 4 years. Now I've got the cool new one!

Verified Buyer

Reviewed by court in the canoe from Ozarks on Tuesday, July 8, 2014

I love my Petzl. This is the best light for my needs. The cord is great as it will work as a headlamp for reading or hiking; on my wrist for moving around the campsite or heading to the latrines; to my bike for night riding; or attach it to my chair, for overhead light while I am lighting a fire. It is super bright and lightweight. I always buy a ton of these when they are on sale because I give them to people who find them as versatile as I do.

Verified Buyer

Reviewed by chazzyo from virginia on Sunday, May 25, 2014

The lamp is small and the cord reel strap works well.
Con's:
Not too bright. Bright enough to camp, read or to get around in a blackout.
Only one light mode. No dimming/flashing. Just on-off.
No up-down pivot to aim light on forehead.



Reviewed by Kevin from Boston on Monday, March 17, 2014

Great for jobs around the house. Bright, lightweight, comfortable, easily adjustable with the quality and reliability of Petzl.

Reviewed by Johnny the Hiker from Colorado on Friday, February 7, 2014

The zipka is a great little backup headlamp that fits easily into your pocket. Once you get used to using it, you'll feel naked without it. Over the years, petzl has gone through many versions of this, and this one is the simplest with the least amount of bells and whistles. It only has on/off, nothing else. No blinking, no red light, no low battery indicator. The battery door setup is better than older models. You should be careful taking in off your head, from the back first, otherwise you'll have a tangled mess of hair. They don't stand up to shock very well, though, so careful you don't drop it onto hard surfaces because the shell will crack. On sale, this is a great buy, and STP's service and policies can't be beat.