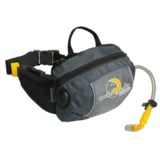 Closeouts. Polarpak's Flowjo hydration waistpack goes above and beyond just quenching your thirst. The MOFLOW (more flow) system, designed around an air pump, is made with antimicrobial film and Microban® hardware for protection against germs. Its unique design is proven to increase your water intake by 30% with every drink. As a bonus, the Flowjo adds lumbar support when inflated.
Can also be used as a backcountry shower or pillow
Internal baffle helps prevent liquid from sloshing when in motion
Lightweight
Five pockets for storage
Bite valve clip and holder
Reflective piping
Dimensions (LxWxD): Approx 6½x9½x2"
Capacity: 123 cu.in with 24 fl.oz. reservoir
Weight: 11 oz.
Material: Nylon and polyester with EVA reservoir
Closeouts. China.
Pump system color varies, may not specify.
Average Rating based on
32
reviews
4.125000
0
5
Reviewed by noshortcuts from bay area, ca. on Monday, August 17, 2009

The overall build quality is good. I like the two pockets on the belt that I use for car keys, multi tool, and cell phone. I love the holster for the mouthpiece that keeps it clean and makes it easy to both retrieve and put back. The amount of water is good enough for short to medium length rigorous exercise. It is easy to fill.

I find the "moflow" system to be a bit of a gimmick. Pros: It is easy to use the pump and add air to the reservoir which makes the water flow more strongly for drinking and also helps hold the shape of the bladder so you don't need to adjust the belt as often for a tight fit. Con: Problem is that it only works for maybe the first 33-50 percent of water usage and then there is not enough air pressure to assist with the flow of water. When there is no help from added air pressure, the mouth piece for this pack has much less flow that most hydration packs. You have to bite and suck to get a drink.

All in all I like it and use it often. I prefer hip hydration over backpack hydration when I can find a decent system and don't need more water.

Best Uses: Mountain biking
Describe Yourself: Avid Adventurer
Pros: Comfortable, Easy To Refill
What Is Your Gear Style: Minimalist

Verified Buyer

Reviewed by Barton of Vermont from Stamford Ct. on Monday, August 3, 2009

Very simple,compact and well made. Limited capacity restricts use to day hikes.

Best Uses: Day Trips
Describe Yourself: Casual Adventurer
Pros: Comfortable, Easy To Refill, Good Water Flow
What Is Your Gear Style: Comfort Driven

Verified Buyer

Reviewed by Nate the black lab's mom from Monument, CO on Monday, July 27, 2009

Have used this for 3-hour hikes - plenty of water. Water valve, container, etc worked just fine. Wish the zippered pocket were just a tad bit larger; hoping that come winter, it will hold my string cheese, sandwich and candy bar when downhill skiing; looks promising.

Best Uses: Extended Hikes, Running, Skiing
Cons: Small other capacity
Describe Yourself: Avid Adventurer
Pros: Comfortable, Easy To Refill, Good Water Flow, Stable
What Is Your Gear Style: Comfort Driven

Verified Buyer

Reviewed by trw from Chattanooga, TN on Thursday, July 23, 2009

This is perfect for runs under an hour. Easy to use.

Best Uses: Running
Describe Yourself: Avid Adventurer
Pros: Comfortable, Easy To Refill, Good Water Flow, Highly Adjustable, Stable
What Is Your Gear Style: Minimalist

Verified Buyer

Reviewed by lulubelle from Minneaplis, MN on Tuesday, July 21, 2009

Loved the fact that it rests on your hips vs. shoulders as do those carried in a backpack. Very accessible as you hike. I used it on our Inca Trail hike...boiled water needed to be cooled before adding it to this pack. Great extra storage pockets for small valuables.

Best Uses: Day Trips, Less weight on shoulders, Travel
Describe Yourself: Casual Adventurer
Pros: Comfortable, Good Water Flow, Highly Adjustable, Stable

Verified Buyer

Reviewed by GreytHiker from Littleton, Colorado on Wednesday, July 8, 2009

I have compressed disks in my back from years of hauling huge backpacks, so I was looking for something that wouldn't set it off on shorter hikes. This little pack is great for a short day hike. Nice non-bulky padding, lots of little pockets for keys and kleenex, and the water stays fairly cool. Pretty comfy as long as you take the pump with you to keep inflating it to keep it tight against your back. But the water capacity is not enough for a long day hike, unless there is a refil station somewhere. Nice, easy to use little product though (I don't know where the "hard to refill" thing was coming from; it's just like a Camelbak and the detachable tube is a nice feature.)

Best Uses: Day Trips, Running, Travel
Describe Yourself: Outdoor Professional
Pros: Comfortable, Easy To Refill, Good Water Flow, Stable
What Is Your Gear Style: Comfort Driven

Verified Buyer

Reviewed by MO walker/runner from MO on Monday, July 6, 2009

Bought 3 more for family and friends. Snug at the back and provides some lumbar support without a lot of weight. Much better than pulling bottles in and out of a belt.

Best Uses: Day Trips, Running
Describe Yourself: Casual Adventurer
Pros: Comfortable, Easy To Refill, Good Water Flow, Highly Adjustable, Stable
What Is Your Gear Style: Minimalist

Verified Buyer

Reviewed by Kal the adventurer from St. Louis on Wednesday, July 1, 2009

This concept seemed like a good idea. Pump air into the pack and let the pressure due its thing. It worked well for the first few drinks, but then ran out of juice, and that was after 40 pumps. The bladder is only 24 ounces, kinda on the small side, and the hose attchment placement makes getting full use of the water a little difficult, 40 oz would have been better.

Best Uses: Short walks, Shorter runs
Cons: Odd design, Small Capacity
Describe Yourself: Avid Adventurer
Pros: Comfortable
What Is Your Gear Style: Minimalist

Verified Buyer

Reviewed by Mikey from Chicago Suburb on Tuesday, June 30, 2009

After running my first half marathon, I was looking for something exactly like your product. I love it. I can't wait to run the next race with the pack. It holds my keys, energy cubes and lots of water and is adjustable.

Best Uses: Running
Describe Yourself: Casual Adventurer
Pros: Comfortable, Easy To Refill, Good Water Flow, Highly Adjustable, Large Capacity, Stable
What Is Your Gear Style: Minimalist

Verified Buyer

Reviewed by Erin from Denver, CO on Thursday, June 11, 2009

I have been using the pack for longer runs because I don't like carrying a water bottle. I like the pressure feature and the ease of using the tube and replacing it. I also like all of the zipper pockets and mesh pockets. Although the water in the tube gets warm, the water in the pack stays nice and cool.

The only thing I don't really like is that it is a little uncomfortable around my waist in front.

Best Uses: Running
Describe Yourself: Casual Adventurer
Pros: Easy To Refill, Good Water Flow, Highly Adjustable, Stable
What Is Your Gear Style: Minimalist