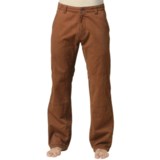 Closeouts. Freedom to hike or climb at a moment's notice comes courtesy of prAna's Freemont pants, made of durable Bedford corduroy with a full-length inseam gusset to accommodate your every move.
Average Rating based on
10
reviews
4.700000
0
5
Verified Buyer

Reviewed by Sandeep B from California on Sunday, August 3, 2014

Overall good, however when i measured the waist it is 32 inches instead of the printed 30 Inches.

Verified Buyer

Reviewed by Anonymous from Michigan on Wednesday, April 30, 2014

Bought these to wear to work (business casual), they fit the bill. Previous reviewer was spot on, they are the narrowest wale corduroy I've ever seen. Very comfy!

Verified Buyer

Reviewed by Zornrah from Ashford, Ct on Friday, April 18, 2014

My word these pants are awesome!! I have pretty snobbity high standards and these meet and exceed them totally. They are REALLY well made, double and triple stitching all over. The attention to details is great. The cord on them is very thin, you can't tell these are cords from more than five feet away (if that even), that might be a minor complaint for some people. I just really love these i intend to buy many more if they are still in stock when i have the extra funds. So please don't buy them, leave some more for me~!!!!

Oh, they fit well as far as living up to the size as described.

Verified Buyer

Reviewed by Terry from Seattle on Saturday, April 12, 2014

good quality and comfortable

Verified Buyer

Reviewed by That Darn Stagehand from Milwaukee on Monday, April 7, 2014

These are really great. Comfy as can be, fancy enough to wear just about anywhere. Fit like pretty much everything else from Prana. If you don't wear 33 waist, I encourage you to try them, as I continue to hoard the 33s for myself!

Reviewed by Keith the climber from Portland on Sunday, October 13, 2013

I love them and wish I could still buy them with a 34" inseam. I like the fit which isn't as baggy as most pants.

Reviewed by Avid camper from Indiana on Tuesday, October 8, 2013

Prana has yet to disappoint. Incredible comfortable. Not stretchy but plenty of room to move around. True to size.

Reviewed by Sweb from Berkeley on Monday, September 30, 2013

These run short in the 30 and long in the 32 length, order appropriately. Corduroy has a good touch - soft.

Reviewed by Dick Johnson from Wisconsin on Tuesday, September 17, 2013

These are good casual-wear pants that seem durable for active outdoor use. However, I wish I would have gotten a size larger in the waist because these fit too tightly in the thigh and butt. I have prAna's Bronson and Saxon pants in 34 waist, which both fit me well. The Bronson are a bit tighter, but they are made with some spandex, so they don't feel as tight as they actually are. I think these are made with a similar pattern, but in 100% cotton without the give the spandex provides, they might be just a little too tight--especially if they end up shrinking at all in the laundry (which I do not yet know).

These color is accurately described as Auburn, but the photo representation is muted. Auburn is an orange-brown color, and I think the photo does not depict the orange component of the color. If you imagine a cross between the photo pants' color and the color of the stars used in STP's ratings, that is how the pants appear.

Reviewed by David from Colorado on Thursday, September 12, 2013

Don't let the Corduroy in the title distract you from the comfort of these pants. The only corduroy aspect I noticed was a slight cross-hatch pattern on the pants that enhances the appearance. I cannot attest to the durability yet. The design of the pants seems to have accounted for any stress or rubbing points. Stitching appears to be durable. And the gusset definitely helps avoid any undue discomfort when sitting or crouching. If you work in a casual office, these would work well. Not quite as dressy as the traditional khakis. The material is more lightweight then other cotton based hiking pants by other big name companies. Small touches (extra material at the heel, triple-stitch seam at the pockets), excellent fit, make these pants another great offering from PrAna. For fit, these run a little short on the inseam, which I liked. Wearing a 30" inseam is often just a bit too long, these fit great. For the waist sizing, for me, these run true to size. Some PrAna products feel too small in the waist and overly long on the inseam. These do not. After wearing these on multiple site visits in mountain rural communities, getting in/out of the car, I am ordering a second pair. They are that comfortable.