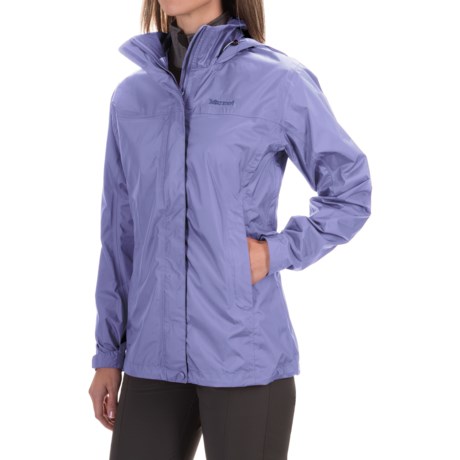 My large is 28.5 inches long in the back. The brim of the hood is soft which helps it pack easily.

A LARGE is a little over 26" from the shoulder to the hem.....the hood has a drawstring with toggles but cannot be formed into any shape of its own.

I am 5'4 but have a long torso,it covers my bottom. It is 28" from neck to bottom. It doesn't exactly have a brim but does have a heavy "wire at top edge of hood that is moldable

Length on women's XS, measured from seam at bottom of back of collar to bottom of hem in center of back of jacket: 25".

The hood has a bit of a brim which I'd describe as "slightly reinforced" but it's not stiff enough to mold and maintain a shape.

BTW the hood has a hook-and-loop tab on the back to adjust its volume, along with drawcord with cord locks to adjust tightness. The hood rolls up into the collar for storage.

I'm not exactly sure of the length, but I'm 5'7", long-waisted, and this falls just below my hips. The bottom of the jacket ends right at the most rounded part of my lower half (ahem!) so water doesn't fall onto my clothes, soaking me, but drips off onto the ground.

The brim is not reinforced with any "moldable" material that holds its shape, but is large enough that if you chose to wear a baseball cap underneath, most of it would be shielded from the rain. I think if it were moldable, it wouldn't be as easy for it to fold itself into the hood for convenient packability, which is a big plus for me.

The medium measures 24 inches from back of the collar. It has a brim but it is not reinforced. You can tighten the hood though so it provides good coverage.