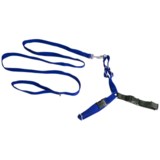 Closeouts. No sense in letting your dog take you for a walk when you can reclaim your alpha status with Premier Pet's Eco Easy Walk harness and leash. Easy to fit and use, it gently redirects pressure, thereby discouraging your dog from charging ahead.
Average Rating based on
36
reviews
4.638888
0
5
Verified Buyer

Reviewed by Deb the demanding one from Staatsburg, NY on Saturday, July 12, 2014

I've always used this style harness (with the leash attachment on the chest.) It's like magic in that it instantly prevents the dog from pulling, without causing him any discomfort. The Senseation brand is better, but the price on this couldn't be beat. And you get a matching leash, too.

Verified Buyer

Reviewed by Jules from Co on Friday, June 27, 2014

This was a great purchase. We have tried a multitude of different products and training techniques to stop the pulling, but this is hands down the simplest, most humane, and effective product. Even my little girl can now lead our 70lb dog.

Verified Buyer

Reviewed by HippyLynne from NOLA on Wednesday, June 25, 2014

This harness is easy to get on and off and looks durable (I've only had it a week.) It really helps with my dogs pulling. And if my dogs chew it, the company will replace it for a $7 fee, that is unbeatable customer service.

Verified Buyer

Reviewed by Soda Springs skier from california on Monday, May 19, 2014

Works, takes a few minutes to figure out goes where but the diagram is great.

Verified Buyer

Reviewed by Maruga the Walker from Oklahoma on Sunday, May 11, 2014

I like the texture and feel of the leash. The harness worked wonderfully: my MaltiPoo did not charge ahead; and as a result, the walk was very pleasant. I also have a petite Basset Hound but the harness did not fit her body well and cannot be used.

Verified Buyer

Reviewed by Lisa from Strongsville, Ohio on Thursday, May 8, 2014

I have a wonderful dog who likes to pull just a bit. With pushing a baby stroller now, while walking her, I can't handle her pulling at all. Decided to give this a try and am glad I did. Like I said she's a pretty obedient dog, not a pull-you-down-the-street-dragging dog.

Just a little tug and she's right back next to me and the stroller. I like that I'm not tugging on her neck anymore. The way this harness works, it really does redirect her sideways, not up or back like a regular collar and leash. She took to it just fine, didn't seem to hinder her movements at all. The harness does sit over her front collarbones (?) which is correct from the pics, just seems a little low/weird at first.

She's 55 pounds. I measured her girth and she was 27 inches- right in the middle of the two sizes. ORDER DOWN if this is your dogs size. I have every adjustment just about as small as it will go and it seems a touch loose.

Verified Buyer

Reviewed by Taoseno from Santa Fe on Thursday, May 1, 2014

If you haven't trained your pooch to "heel" or "walk along", this is the product to help with that important training task. It takes the pressure of their neck and puts it on the whole front body which is better for control and better for pooch's health.

Verified Buyer

Reviewed by Marcia from Washington State on Sunday, April 27, 2014

Works great at keeping our Jack Russell and Terrier mix from tugging on their leashes.

Verified Buyer

Reviewed by RIDGERUNNER from Knoxville, TN on Wednesday, April 23, 2014

Great comfortable harness for you dog.

Verified Buyer

Reviewed by Hannah from Colorado on Thursday, April 17, 2014

I've only used the leash a couple times but so far I am happy with my purchase. My dog would always pull, especially when she spots a squirrel!, on our walks and I was worried about her hurting her neck. This harness makes me feel better when we go on long walks.