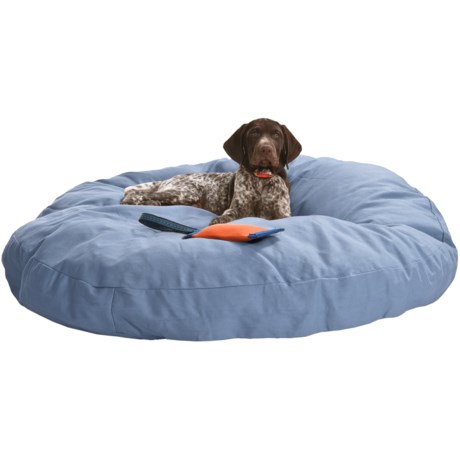 Our greyhound licks this bed constantly. The fabric holds up really well, it's really sturdy.

My one year old toy poodle loves to chew on everything which poodles usually don't and she has chewed on this bed with her little razor sharp teeth and so far has done no damage. The fabric on this bed has held up better than the legs on my bamboo chairs. So far there are no holes or tears on this bed. Fabric is like a twill but softer and just as strong. Just playing around, she has punched holes in my hand and arm but not this bed. Love the fact that the liner will unzip to be removed for washing.

This fabric is a pretty durable cotton. The only thing I have found is that it can get stained, as all cotton can. It would be a pretty big chore for your bulldog to pull this bed around since it is very heavy. Plus, the stuffing is sort of poufed inside, rather than a solid piece of foam, so he may have a hard time pulling it around.

I think the cover is made of a very durable fabric. It is tightly woven and feels like it will hold up well.