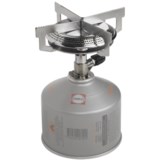 Closeouts. The Primus Classic trail stove is the ideal compact cooking/boiling system for lightweight backpacking.
Average Rating based on
26
reviews
4.730769
0
5
Verified Buyer

Reviewed by Groundskeeper from Washington, PA on Wednesday, October 14, 2015

These things have been around for a long time and are tried and true. As with most products there is good and not good so start with the not good- Heavy for UL backpacking, it came exactly at the stated weight of 8 ounces, easy to get stoves in the 3 ounce or less range for 30 to 40 dollars. Also a tad bulky. The pot stand has sharp corners, need to be careful when packing. The good, what I like and why it gets 5 stars- Bullet proof tough, stainless steel construction, if something happened that damaged the stove as to not work your already dead from that accident and don't need it. The edges of the pot stand can be filed to smooth out the sharp and pointed parts. This stoves simmers better than most, boils water fast, fuel efficient, has a large and solid pot stand and is not cantankerous in the least. If I car camp then hike a few days then back to car camp it is a great only stove to take because of the fact it's an excellent base camp and day hike stove and will suffer the few extra ounces when backpacking for a few days.

Reviewed by PeteMcC from Raleigh on Thursday, September 5, 2013

Does not pack down as small as the express or micro models
boils water fast.

Reviewed by avid hiker from Here on Wednesday, September 4, 2013

For the money, there is no second best. Have had it less than one year, and can't comment on its durability, but so far it's worked every time I have put it to use.

Reviewed by rraine from nevada on Thursday, August 1, 2013

great little stove, a little heavy for backpacking. overall, a great buy..

Reviewed by okie from Oklahoma on Monday, July 8, 2013

Works perfectly. Sturdy packs fairly small. There are smaller ones, but this was stable and cheap. Can't beat it for the price.

Reviewed by Colinsdad from Longmeadow Massachusetts on Sunday, July 7, 2013

I wasn't sure what to expect this product, as manufacturers make all sorts of wild claims about the efficacy lightness and ease of use of their products. But, I had yet to own a Primus product, so, with the clearance price I gave it a shot. I am very glad I did ! I spent the weekend hiking Mount Greylock on the Appalachian Trail , and was pleasantly surprised with the light weight and performance of this product. In fact this will boil 32 ounces of water in just about a minute, and, with one of Primus 32 is pots, it made the perfect camping cooking combo. A nice plus was that the stove nestled perfectly inside the pot for easy packing. One caveat to users is that this thing can eat up isobutane canisters quick, if you're not careful. All in all a very very great price on an excellent product !

Reviewed by SB from Ca on Wednesday, July 3, 2013

Best buy I've made adding to my gear collection. This bad dog rocks. I have an MSR x-gk, and a whisperlite, Performance is similar except ridiculously immediate in terms of firing. Turn knob, light. No priming, sputtering, blah blah. And the $ was a steal.

Reviewed by jay from taranaki on Thursday, May 9, 2013

im so pleased with my primus cooker ,its so compact and light yet when its in action it heats like a gas burner on my large stove,doesnt take a minute too heat up our hommade soup which is consistency thick ,ihave had primus before and the stove lasted 20years plus

Reviewed by Outdoorguy from Central US on Wednesday, May 8, 2013

have a bunch of these, have giv4n them to my kids, and keep some at the mtn house and some in my travel pack at home. Use em all over the world, fuel is readily available. they weigh noting and put out hot fire.

Reviewed by blegato from Washington on Tuesday, May 7, 2013

This thing does what a jet boil can't and that's exactly why I bought it. It has excellent temp. control for all your primal outdoor adventure cooking needs, will boil water almost as quickly as the, I do one job very well, Jet boil, yet at the same time understands you may be a broke college student so it sips the fuel at half throttle or less. It settles somewhere between the light to the moderately light range, though to some 8 ounces might as well be 10 pounds......freaking whiners. My only wish (not complaint) is for it to be a little more compact-able so it could keep my jet boil burner company. (If only it contorted like a Ukranian gymnast). But all in all you can't go wrong. Minimal moving parts=more piece of mind in the " Oh good, it's Fubar, what do I do now?" department. Bottom line: If your on the fence about, just buy it already, you'll be happier than sunshine on John Denver's shoulder.