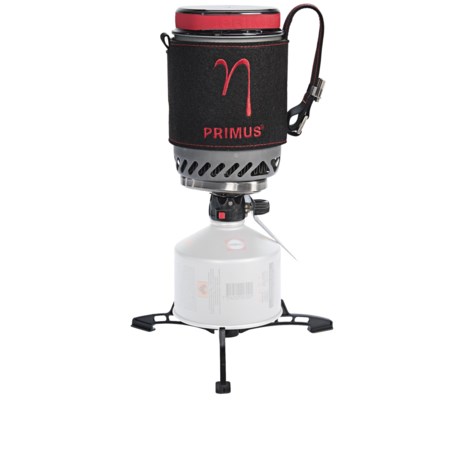 A larger pot can be used, but it may not heat as efficiently.

Yes, you can use a larger pot on top of this burner ETA LITE camping stove... I bought the 1.8 liters made for the ETA LITE camping stove, I used it and it's was very good for cook my soup or my pasta, rices .. (sorry for my writing)

Yup, it's only compatible with the cup it comes with. It sits on the burner in a fixed manner, then you turn it to lock it in place. But the way the cup is built is why it can heat up so fast. Primus has another stove that I own as well that works with any pot, it cost only around 20-25 dollars, but it takes a while longer to heat up, but if you're not in a rush or down on fuel, it's a great option. And it's super small and convenient. Hope this helps. :)

The short answer is yes - The long answer follows:

The design of this stove is really based upon a light-weight system for boiling water in the cup, that it comes with, and using that water to mix with dehydrated meals, coffee, etc. It works really good for this purpose and there is a coffee press that may also be purchased that works with the cup. That being said, if you look closely at the stove system there are three screw-spacers on the handle of the cup. those spacers may be removed from the handle and screwed into the top of the burner as a spacer-stand to place a different small pot upon.