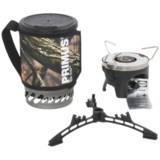 Closeouts. A complete kitchen for one in a compact, easy-to-pack setup, Primus' Eta Solo Camo stove boils one liter of water in 2.1 minutes and features integrated windscreen and a heat exchanger to boost efficiency and lower fuel consumption.
Average Rating based on
23
reviews
4.347826
0
5
Reviewed by tomthegadget from Wyoming on Monday, April 21, 2014

I got this to use backpacking and on hunting trips. The first time I tried to use it was under windy conditions and the lighter wouldn't work. I ended up piling items around the stove and using matches before it lit. Once lit it works as advertised, boiling water in nothing flat. The second time I had no problems using the lighter. The third time was like the first, taking the pot off the stove and using a match which you have to hold right against the burner until you get the pot/windscreen on the stove. If the stove had spot for external lighting this would be much easier. I have had no problems getting the fuel canisters at REI or Sportsman's Warehouse.

Reviewed by truman sparks from pittsburgh, pa on Saturday, December 21, 2013

Having used another more well-known brand, I was surprised, not only how much I liked this product, but also it's superiority in it's versatility. It is great that other cookware (backpack pots & pans) can be used in conjunction with the burner! Having burned up the other brand's burner trying to rig it to perform the same function, I found this feature fantastic. It's a bit tight to pack the fuel cannister & other impliments into the container but I did. Also, with how great it performs, I could easily overlook the unnecessary 'camo' insulating wrap.

Reviewed by Fishing Ty from North Carolina on Tuesday, November 5, 2013

This has been great for camp coffee!! We love it for making french press. I have not used it for anything else yet but definitely worth the money.

Reviewed by RL in AZ from Arizona on Friday, November 1, 2013

I was really pleased with the weight and the short boil times of this stove. The low fuel consumption rate is accurate. This would have earned 5 stars excet for these couple items. I do wish the legs to support other pots were attached or had storage pouch so as not to be lost. The tabs that attach the pot to the burner "stick" and make it difficult to separate and attach the pot and burner, however once attached, the connection is VERY secure. I also wish the pot would accomodate the burner, stand and a fuel canister.

Reviewed by Pat from PG from PA on Sunday, October 20, 2013

Purchased this in anticipation of hikes. All seems fine but the pot does not sit exactly right on the stand. Don't anticipate this being an issue and not worth returning over. Can't comment on the function yet. Worth the money (as much as I have only assembled it) compared to similar products / sources.

Reviewed by stan from ca on Wednesday, October 2, 2013

I used this all weekend long motorcycle camping. Very impressed with the speed this stove will boil water. Great set up. Thank you!

Reviewed by truman sparks from pittsburgh, pa on Tuesday, September 24, 2013

Works as well or better than its more widely known competitor with the added benefit of other cookware to be used with it. giving it more flexibility of use. I even managed to pack a fuel canister in the unit, doesn't fit perfectly or easily but it will stow. Can be purchased at a great discount in comparison also.

Reviewed by Sam in Santa Cruz from Santa Cruz on Wednesday, September 4, 2013

I highly recommend this. No joke how fast the water boils. Doesnt waste any heat or energy. You can put your hand right next to the side and not feel any heat coming off, which means one small fuel can will last a whole trip and less weight. Won't tip or spill. The pot securely clicks in and locks to the stove part. Very light. Comes with attachments to put a regular pot on top or hang the unit with a metal chord and hook. Get it.

Reviewed by Mike from Colorado on Friday, August 23, 2013

Fast, quiet, efficient.
I took the stove on a 7 day canoe trip so that I could get my coffee before the rest of the group started fixing breakfast. It functioned perfectly and reliably every day. I am planning on taking it elk hunting, but didn't really need it in camo. The camo unit was on sale for less than the solid color one. It may be useful for hiding my morning coffee from my hunting partners. They will have to get their own.

Reviewed by Lefty the Log from Long Beach on Friday, August 9, 2013

No, seriously. Don't do that. It would hurt. Other than that piece of advice, this thing does the job!