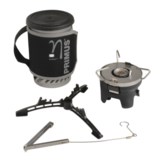 Closeouts. The Primus Eta Solo stove is a small, compact and lightweight cooking/boiling unit that's ideal for the weight-conscious backpacker
Average Rating based on
30
reviews
4.100000
0
5
Reviewed by happy kayaker from california on Wednesday, November 13, 2013

We love innovative stove ideas for compact and lightweight stoves. We planned a week long kayak trip where space was at a premium. Our stove worked perfectly and was very fuel efficient.

Reviewed by Just another enthusiest... from Colorado on Monday, October 28, 2013

Took this stove hunting and it worked very well as expected.
It is very light and mostly sturdy.
There are a few caveats that should be mentioned.
Time to boil can vary.. It boiled water typically in about 2-2.5 minutes at over 8500 ft., this clearly depends on the start temp of the water.
The igniter is exposed to damage sitting on top of the burner but can be protected by storing the cup clicked onto the burner. Only makes the unit 2.25 inches longer. The burner also fits inside the cup for safe storage, saving the 2.25 inch additional length.
Cup attachment is via two spring clips that can be temperamental in securing and difficult to disengage when the unit is hot. Needs a fair amount grip strength and finger pressure that some individuals may struggle to achieve.
Using the 220 gram fuel canisters will not fit inside the cup for storage, but the plastic feet do fit the larger fuel can and the feet store within the cup easily.
I really liked this unit and the price paid. If the price was higher/equal to the Jetboil, I might consider the Jetboil instead...?




Reviewed by Kibbles and Bits from Ohio on Wednesday, October 2, 2013

I recently took this stove on a 4 day backpacking trip in Glacier National Park. It was light, packable, and performed exactly as it is supposed to. It boils water quickly and with little fuel. One small canister was more than enough fuel for 2 people. I bought another one for my daughter for her birthday.

Reviewed by Cody from South Dakota on Friday, September 20, 2013

Easy to use, durable, lightweight

Reviewed by spiff d from San Diego on Saturday, August 24, 2013

Just received the unit, try to wash the inside of the pot before any field usage. It won't hold any water, because there is a hole at the bottom!

After inspection, on the pot and bottom ETA fin part, a very bad weld spot left a big crack/hole.

Such bad defect and quality control, will send it back for refund, don't want risk with anther unit that might failed in field.

Reviewed by dollarhiker from Connecticut on Tuesday, August 13, 2013

One a 1 week 8 person trip this product didn't even go through 1 large can of fuel. The other non-jetboil like stove ate a can and a half serving less people's hot water needs for dehydrated meals. I'm confident that I could easily get away with the small canisters (that fit inside the cup (joy!)) for multiple day hikes. Some complain about the tabs to push in to unlock the cup are hard to operate. For me I WANT the handling of boing water to be a very conscious effort. Only negative is that the ceramic shield around the piezo start cracked rendering it non-functional with just normal jostling in a backpack.

Reviewed by Anonymous from NY, NY on Thursday, August 8, 2013

very packable, small and compact.

Reviewed by Charlie the camper from New Mexico on Sunday, June 16, 2013

Primus used to be a great name is stoves. This particular model is really shoddy.

Next to a jetboil this seems poorly made. I fired up the jet boil and primus side by side, indorrs at 7200 feet with 16 oz of water and no wind. The jet boil reached boiling in under 2 minutes. The Primus took almost 4 minutes. That's 2x it's manufaturer's spec. It was comapritively quiet next to the jet boil so I'm fairly sure the stove I was testing was defective and not letting out enough gas. I repeated this experiment switching the gas canisters to be sure. It was a lemmon.
The design defects are many. The jetboil has a secure easy to use twist lock. This one has a fiddly tinny sticky spring clamp that takes 3 hands to operate if you don't want to spill boiling water on yourself or burn your fingers. The add on pot stand hooks are just peices of bent steel, smooth finished and unlikely to securely balnce a pot there's a second peice of steel for the heat sheiled. There's no provision to store these or the legs for th base inside the stove unit so you have to keep track of them in your backpack. They are a nuisance to install of remove when the stove is hot. The jet boil has 4 not 3 legs with an integrated heat sheild for it's pot stand and they are more secure, packinto the stove for transport, hard to lose, and remove easily when the stove is hot.
The stove I received was missing the welded on hook attachment point for the hanging bracket but I could see this ateel hanger was a bit of kludge. I suppose it's fair to say the jet boil doens't even have this provision. So that's something.

the bottom of the cup has a heat transfer fin that is just like the jet boils. The difference is that the jet boils was not missing welds whereas my primuz one was missing several welds.

Finally, the jet boil can store all it's parts plus a fuel can with the can removed from the stove. The Primus sove is desgined to store the cannister still attached to the stove, trusting the valve not to let it leak during transit. Doesn't make me feel good.

The autoigniter on this was a rickrty ceramic tube sheilding th ebetal. It's not supported by any structure so the ceramic is taking all the force if you bang it on a rock. It looks like it was asking to get cracked. My jet boil zip doens' have this feature. you have to use a lighter.


Reviewed by Samuel from Utah on Thursday, May 9, 2013

Like other reviews the catch tabs on the stove have a hard time getting all the way on the pot so that it will hold it and once on it is hard to release. I like the value over the Optimus and so I still got this stove and put my handy skills to work and modified the bottom plate and the tabs and now it works flawlessly. Maybe the manufacturing errors are why it is on closeout but either way I am happy in the end. The feet also don't fit in the pot and I don't think a small fuel can will either like it does on the Optimus but like I said, Very worth the price in the end.

Reviewed by Ron from North Dakota on Friday, May 3, 2013

I have used a friends Jetboil stove and thought this was a good comparable purchase. The device shown in the photo to hang the stove was not included so that was the first disappointment when I opened the stove. I figured, I could get along without it, and took the stove on a weekend backpacking trip. I was hoping that the stand, burner unit and small fuel canister could all be packed inside the unit, but there was no room for the stand to be placed inside.. I used a cut-off toilet paper roll to protect the piezo igniter so I could place the fuel canister inside the unit, but regardless, the igniter was broken when I needed to use it. This really needs better engineering to make this a trouble free system. With all that said, I did use the stove, lighting the flame with a lighter, and it boiled water in a speed comparable to the Jetboil. I would recommend spending the additional money and getting a Jetboil if you want this type of unit.