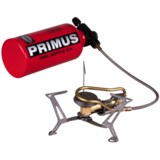 Closeouts. Primus' Express Lander stove is an extremely lightweight, easy-to-operate liquid fuel stove. It features precise simmer control, weighs less than 7 oz. and fits in the palm of your hand.
Average Rating based on
10
reviews
3.800000
0
5
Verified Buyer

Reviewed by Neeman from Israel on Sunday, January 18, 2015

Finally a pump gasoline stove that is light and easy to control
It simmers as well as a gas stove and is as light as a gas stove
Make sure to buy a wind shield for it

Verified Buyer

Reviewed by Mark Hsieh from Taiwan on Saturday, December 13, 2014

Light and compact

Verified Buyer

Reviewed by B-Ray from The Ozarks, Missouri on Tuesday, November 25, 2014

Should of tested before - Agreed, but a new stove that does not even come with all its parts. This is not a good thing Primus.

Reviewed by Midori Wolf from New York on Thursday, October 30, 2014

Be sure to practice with this stove outside a couple of times before hitting the trail. It is great for cold weather. I use a spark tool to light it, and although it flames up pretty big during the warm up cycle, that is just the thing to heat my hands when I am cold and getting ready for dinner. That big yellow initial flame is a happy sight after a long day's hike. Do not flame this stove up in your vestibule! The initial flame is warm and quickly dies down to a powerful blue one. It has been very functional in moderate to strong wind (although you still need to block the wind). I have used it in the Great Gulf, Adirondacks, and Catskills on multiple day backpacking trips without regret or a single failure. There is virtually no simmer option--but I think this stove is primarily designed to boil water quickly, especially in cold conditions. It has been very dependable for me, and I have grown to like its quirky style. Always make sure the pump is securely sealed--sometimes the inner screw at the base of the pump handle gets a little loose, and it will not pump air into the fuel tank. Tighten it down, and it's ready to go. Just a hunch, but I have a feeling this stove will outlive me. I don't mind equipment that requires a little finesse as long as it is reliable. This stove has been 100% reliable, and its fuel use rate has been satisfactory to boot. Most important: It always lights up.

Verified Buyer

Reviewed by Al from Portland on Friday, October 10, 2014

This baby folds up to fit in your palm, is made of quality materials steel and copper (except for the tank adapter looks like plastic oh well) and works like a charm. If you know you need a stove on your backpacking/camping/hiking/whatever they're all the same trip then this is a solid well-priced option.

Verified Buyer

Reviewed by Brian Maazen from Northern MN on Monday, June 23, 2014

I bought this stove for a Boundary Waters Canoe trip to supplement my Jetboil. We had a number of backpacker dehydrated meals but were fishing and I wanted a stove that could fry fish during the trip. We packed in 15 miles and caught fish our first night. I fired the stove up. It is tough to light and very high flame until the stove gets going. The jet is not very good for simmering and doe snot spread the heat much. It did not evenly heat the grease. Ultimately it lead to me using the coles from our fire to fry fish. This was fine for me... Nothing beats camp fire fried shore lunch. So, to this point, we thought the stove was okay and were only upset that it did not work really well for frying fish. We packed up and set up camp in a different spot a few days later. We had to boil a lot of water and I thought it would be a good help to use this stove and get two pots of water going. The stove would not light. There was something blocking the fuel from coming out. It would leak a tiny bit of fuel and then nothing. This was not acceptable for me. This was the second stove I bought. The first Lander was returned because it would not light. I think there is something wrong with the hose and fuel delivery system on these things.

I would recommend a Jetboil or another hefty style backpacking white gas stove.


Reviewed by Xiaofan He from China on Friday, February 14, 2014

It is what I want,Lightweight and easy to use.


Reviewed by Engineerrock from Arkansas on Saturday, January 18, 2014

I've only used this twice at home but so far I'm pleased, especially with how easy it is to prime and light. Also the base is satble.

Reviewed by Dadburnet from Chicago on Tuesday, November 19, 2013

Mine appived without the wind screen that was listed in the website. It seemed to have been used before,as it had some blackened areas on the burner and loose fittings where the fuel tube enters the burner assembly, pump tube was way loose too. If I had just taken it out of the box and lit it off , it would have been dangerous. Hey, I can fixthe loose fittings and perhaps they are factory tested, but the missing wind screen,I cannot repair. Be aware that the tool needed to do trail service isn't included. I'm prepping for an 14 day AT hike this spring and have been buying a lot from these guys. Maybe I should re-think that...

Reviewed by jadesrochers from OR on Sunday, November 10, 2013

This stove is my favorite all around for backpacking, and some mountaineering trips I did in moderate weather. It is lighter than any other liquid fuel stove I have tried, but at the same time seems built very well in the critical components. It has an aluminum as opposed to plastic pump and the brass vaporizing assembly is sturdy and operates fine in cool weather. There is almost nothing else there, but that is why I like it.

The legs look really flimsy, but they held a 2L pot fine and did not wobble, and they feel stiff. It also seems to be very fuel efficient, I melted snow on a couple mountaineering trips with it and used less fuel than I expected allowing me to cut down the fuel I brought on subsequent trips. A bit slower to boil, but not bad at all. I had to field repair it due to a clogged jet on a backpacking trip but I was able to do this in about ten minutes due to its simplicity with the micro size leatherman. really like the simplicity.

I prefer this stove to any other liquid fuel I have used, and also prefer the Primus designs overall to other brands (MSR,Optima). I think MSR has a lot of exclusive distribution in the US so you almost never see these in stores, but I am glad I tried one. Definite five star in my view, one of the few pieces of gear where I don't want a thing changed.