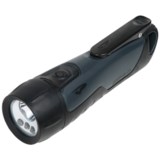 Closeouts. A reliable and versatile handheld, Princeton's Tec Amp 5 flashlight features one Maxbright Rebel LED bulb and three 5mm Ultrabright LEDs for a strong directional beam and 160 hours of burn time.
Average Rating based on
11
reviews
4.090909
0
5
Verified Buyer

Reviewed by Inga from AZ on Thursday, August 6, 2015

Many of Princeton Tec's products are made in USA. When I ordered this I thought it was. The flashlight didn't even work!

Verified Buyer

Reviewed by Martha the Outdoorsy Poser from Oregon on Monday, June 29, 2015

The Princeton Tec Amp 4 (note this is a 5) is a superior light. At 100 lumens, it'll illuminate like a lantern with a more focused beam. The Amp 5 is almost as good (almost imperceptible difference). It has 65 lumens. The price of the Amp 5 is almost a 1/3 lower, clearly the better value. I am very satisfied with my purchase of the Amp 5.

Verified Buyer

Reviewed by alpinemtngoat from Alpine Utah on Tuesday, March 31, 2015

quality

Verified Buyer

Reviewed by Navy George from South Carolina on Wednesday, January 28, 2015

It works like a flashlight. You have to hold the power button to turn it off. It is bright. However, you can't have the LED bulb and the LED lights on at the same time, which would make sense to me. You get one or the other. Seems durable, fits well in my hand. I have clipped it to my pants while walking.

Verified Buyer

Reviewed by Mountain Rover from anymountain on Monday, November 10, 2014

A solid piece of work. Bright light. The"off" position of the switch is NOT obvious - you have to hold the "on" button on for two seconds to turn it off.

Verified Buyer

Reviewed by Ann G. from Rhode Island on Friday, October 10, 2014

This flashlight is bright. The only negative thing about it is there was no directions on how to put in the batteries. I found out how to put them in by trial and error.

Reviewed by Joe from Illinois on Friday, February 28, 2014

Bought this to replace one of similar size. The Princeton Tec throws off good light and has a choice between lower level broad and higher intensity spot.

Reviewed by This Guy.... from Flagstaff (7,000ft) Az on Tuesday, December 17, 2013

Long Battery life
Simple
Fairly bright.
Solid
Uses common batteries.

Reviewed by Pete from Ohio on Thursday, December 12, 2013

I've usually been very pleased with Princeton Tec products. My son has had one of their headlamps for years. When a part broke, we called and they sent a replacement immediately. I have two of their headlamps myself. I've never had a problem despite using them in all kinds of weather. Unfortunately, this Amp 5 flashlight was defective. The switch is probably bad. The symptom is that it only works on bright, the low beam setting (3 smaller LEDs) worked a couple of times, then quit during the first real use. I have the RMA to send it back, but it is a hassle. I chose to deal directly with the manufacturer to make sure they knew of the problem. The retailer (STP) would certainly do an exchange for me, but they might not bother to report it to the manufacturer.


Reviewed by 07rescue from New York, NY on Friday, October 25, 2013

I bought this flashlight because it has a clip to hold it in place where I put it while carrying it on my person. I am very pleased with it's brightness, clean white light, and most of all how short it is in length. It fits well in a pants or coat pocket or side compartment of a backpack or messenger bag, where it can be easily accessible when I need it, without delay and struggle. It does not stick out so far that it can topple out if I lean over or run, a problem I have had with other flashlights. I have had much pricier, small, compact tactical flashlights that are more convenient to carry, but when wearing gloves they can be hard to find by touch alone, without looking. Ironically, the bulk of this flashlight makes whipping it out quickly much easier under those circumstances, a big plus for law enforcement and first responders.