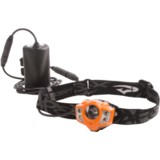 Closeouts. With rechargeable lithium-ion batteries, a Maxbright LED bulb and four Ultrabright LED bulbs, Princeton Tec's Apex headlamp is a crucial gear addition for extreme outdoorsmen and cavers.
Average Rating based on
10
reviews
4.400000
0
5
Verified Buyer

Reviewed by Jim, the Crazy Winter Fly Fisher from Colorado on Monday, August 24, 2015

This is my first rechargeable LED headlamp, but this one seems to be of very good quality. It's bright and the batteries seem to last longer than expected. It's a bit tricky to charge as it requires a USB port rather than a regular wall outlet. The wire connectors are also a bit tight. After that it's a great light.

Verified Buyer

Reviewed by Baercloud Kennels from Minnesota on Monday, August 24, 2015

I run a dog sled team and can't believe the high intensity elimination of this lamp. I could avtually see the front and beyond on a ten dog team. Great to use for training.

Verified Buyer

Reviewed by Tech 24 from British Columbia Canada on Monday, August 24, 2015

As a heavy duty truck technician working under the equipment and outside lighting the area is key. This product has all the features needed to light up the area I am working in. I would definitely recommend it to anyone looking for a durable light. The only drawback is not showing a led to indicate when the battery pack is fully charged while plugged into the wall.

Verified Buyer

Reviewed by Johnny the Hiker from New Hampshire on Wednesday, August 19, 2015

For years I had to listen to my friend Johnny the wannabe canoe guide go on and on about his princeton tec headlamps. Made in America, good customer support, blah, blah, blah. I will admit up front that we are both headlamp junkies, having gone through a number of petzl products over the years, who, by the way do NOT have good customer service. But THIS particular headlamp is the supernova of all headlamps. Sure, it doesn't have a little red light so you can pretend to be politically correct when having a conversation about global warming with your friends without blinding them, so what. Shut it off.
The headlamp itself is incredibly bright. I don't even use the brightest bulb most of the time, but when I do, my town loses its dark sky certification. And it keeps a charge for a long time, which is easily recharged by plugging the USB into your computer or car charger. The top of the headlamp says "h20 1m", which I doubt. It may very well be, but I wouldn't take the chance submerging it. Could possibly be a misprint there, and also on the box where it claims to be 260 lumens, while STP is claiming 200. Either way, it is super bright.

NOTE TO STP: Poor packing job, folks! No bubble wrap or anything in the shipping box! The headlamps I bought were getting beaten up by the bypass pruners!

Verified Buyer

Reviewed by Dylan from Spokane on Tuesday, August 18, 2015

Fairly tricky to setup the first time as mine had no instructions but the light is super bright and pretty comfortable. I recommend this headlamp.

Verified Buyer

Reviewed by Mre2me from kitchen on Monday, April 13, 2015

Nice lamp. If your ok with the weight of the battery pack, this will work. The Lithium batteries means you charge any time at any current battery level. One charge lasts for hours and you re-charge it with a USB.

Verified Buyer

Reviewed by Doc B from Augusta GA on Tuesday, February 17, 2015

The dual lighting modes, each with high/low settings makes this headlamp extremely effective and versatile ... even in the fog.

Verified Buyer

Reviewed by TMPrin82 from New Hampshire on Monday, December 8, 2014

I purchased the non-rechargeable version of this lamp earlier in the year. This one is just as impressive in regards to lighting and functionality. The powerful spot light coupled with 4 smaller LEDs for flood lighting is excellent. I took the non-rechargeable one spelunking this September and compared to my other Princeton's, the lights on these lamps are incredible.

The only reason I rated this headlamp a 4 was due to charging the battery pack. I do appreciate the extra 42" cable they provide so I can tuck the pack into a bag/pocket and eliminate wearing a brick on my head but the actual "brick" itself is limited in regards to providing information about charging. The male/female connectors seal tightly, however, while attempting to charge the pack for the first time, I discovered there is no light to indicate whether the pack is charging or not. After discovering my failure to charge the pack, I realized that you have to hear the three "clicks" to know that the charging cable and battery pack are connected.

Overall, this is a great product, just be mindful of the connections and remember to separate the cables at the contacts, do not pull on the cables!

Verified Buyer

Reviewed by Casual Biker from Washington State on Thursday, September 18, 2014

This light probably works awesome. I like that it is rechargeable. It was just to heavy for my purposes!

Verified Buyer

Reviewed by gundrted from Denver, CO on Friday, May 30, 2014

I got this for an overnight relay race and wow it is BRIGHT. Its been 10 years since I got a new headlamp and paid over $100 at that time. This lamp was pricy even after STP discounts, but is worth every penny. The spot mode is mind blowing. I really think I could use it to mountain bike at night. The wide angle modes give great light. It will also charge off a Goal Zero Nomad 7 panel. The extension able is nice because you can move the battery off your head on into a pack.

If I had to find a flaw, it would be there is no charging light. You have no way to tell when its fully charge. You just have to leave it plugged in and trust the force ;)

If you are looking for a headlamp that will last you a long time, spend the money and get this.