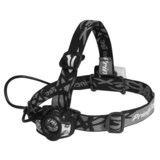 Closeouts. Shed some light with one Princeton Tec's Apex Pro headlamp. Includes one 3-watt Maxbright LED for a strong directional beam and four Ultrabright LEDs for proximity lighting.
Average Rating based on
130
reviews
4.469230
0
5
Verified Buyer

Reviewed by Gianni from Boston on Wednesday, September 27, 2017

This seems like a very solid if slightly heavy headlamp (but nothing in comparison with the old monster I used to use for winter camping that took D batteries). Am hoping it will last a long time. My box said the unit was 300 lumen.

Verified Buyer

Reviewed by john from kentucky on Saturday, August 8, 2015

All I can say is I'm a very heavy user and this lamp in every category has impressed me. If I had one downfall it would have to be that the batteries that came with it were about dead, but no biggie.

Verified Buyer

Reviewed by Nottyman from Wyoming on Wednesday, August 5, 2015

This headlamp blows my old headlamps away! The 4 smaller LED's shed some pretty decent light for close work. The big light in the middle is like a car headlight! The center strap is removable. It's a lot of light in a small package!

Verified Buyer

Reviewed by mp from westchester ny on Wednesday, June 24, 2015

perfect the company on line service we extremely helpful and allowed me to find your web site and a great value

Verified Buyer

Reviewed by WIO from Michigan on Tuesday, June 16, 2015

I just lost my old one at a party and I had to replace it right away. This is a great headlamp.
I've used it mostly for night time trail running and it's very nice. I also use it anytime I need a light. The LED's on high are enough for most situations
but if you need more the big LED is a total light cannon. Battery life is good I've felt that I get a lot of use out of a pair of batteries even in single digit (f) temps The warning light comes on with plenty of battery life left. It fits well, and is adjustable. I barely notice it. The batteries can be expensive
so shop around to get a good price and definitely check the review because some of them are worthless. Also the buttons can be a little difficult if you have really thick gloves on

Reviewed by CP Colorado from Colorado on Thursday, February 5, 2015

The batter case cracked rendering it inoperable. Battery life is terrible. Returned it.

Verified Buyer

Reviewed by joey from Louisiana on Tuesday, January 13, 2015

Very bright headlamp. Lightweight and comfortable to wear. Not sure about battery life, time will tell.

Verified Buyer

Reviewed by Travelrtn from Tennessee on Friday, December 5, 2014

Just received the olive drab version. Really impressed on the output. Have not had to change batteries yet. Also it is very lightweight. Bought for all purpose use and duck hunting. Just wondering how much the CR123 batteries are going to set me back. Overall, very impressed. I own another Princeton Tec head lamp and it also has been dependable.

Verified Buyer

Reviewed by Josh from North Central Washington on Wednesday, October 8, 2014

A little on the heavy side, but very, very bright. So far, the batteries lasted over 12 hours with no visible fade. I do not like that the on/off buttons are located on the bottom side of the light.

Reviewed by Berner Lady from SW Colorado on Saturday, March 15, 2014

I walk our dogs every night about 8:30pm and it is dark. We live on a dirt road in an area surrounded by the San Juan national forest and with all the critters are out here -- coyotes, bobcats, mountain lions, and all their prey, rabbits, squirrels, deer, elk, etc. I'm sure you get the idea I have to see what's ahead and off to the sides. It's important to me to see clearly ahead of us and this headlamp makes that possible. This one is so much better than the older headlamps we've had for several years, much more light and side beams for wider lit area. The push buttons are so much easier to work and I can operate it with gloves on my hands. Haven't had to replace the batteries yet and I've been walking every night for almost 2 months using the lamp.