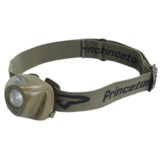 2nds. Princeton Tec's EOS headlamp provides durable, weather-resistant, lightweight and multi-functional lighting with a MaxBright LED light that has three brightness levels as well as a blinking mode.
Average Rating based on
30
reviews
4.500000
0
5
Reviewed by Sgs508 from Seattle on Thursday, October 20, 2016

Good quality. Bulkier than many other models but easy to use.

Reviewed by Samples from colorado on Friday, September 2, 2016

It's a good little unit that is powerful enough for typical camping or night walking duties and seems to have long battery life. Only problem is that the mount broke on the light body where it pivots. Likely broke in my pack. The lamp has been on less than 15 trips, so was expecting it to hold up better than it has.

Would buy it again if I was only using it to walk around the neighborhood.


Verified Buyer

Reviewed by Bill from Maryland on Saturday, April 2, 2016

Nice and bright, only issue is the strobe function that happens before you can turn it off is a little startling, even when you know it's next.

Verified Buyer

Reviewed by Yellowdaylily from NH on Friday, February 19, 2016

Our first headlamp gave out so I ordered this one. So glad I did. The light options are great with the brightest light allowing us to shine it into the woods on a night walk and see what just made that sound! The band that goes around the head is stronger feeling and easier to adjusts. The only thing missing is the red light that the other one had.

Verified Buyer

Reviewed by Mill Valley Mum from Mill Valley CA on Sunday, January 4, 2015

I love this sturdy lamp. It's my go to, for sure. The three different settings of steady light are quite different, making them all useful.

These are the three reasons why I gave it a 4 instead of 5: 1. It's a bit heavier than the other Princetons I have. 2. It burns batteries quickly on high..you can tell when the batteries are waning because the most powerful setting starts to dim and then all three are about the same brightness as the lowest setting after a while and 3. I love the vertical mechanism for focusing the beam up or down during reading or other close jobs. It's not a sturdy design on that part of the lamp. Mine eventually broke right off. Naturally, STP was great about sending me a new one because it was under six months (so STP gets 5 out of 5).

Verified Buyer

Reviewed by Ross the plumber from WA on Saturday, December 13, 2014

Bought these for our family emergency kits. Good combination of price and quality. I trust these will work well when we really need them.

Verified Buyer

Reviewed by Kurt from WA on Friday, December 12, 2014

I finally broke down and bought this headlamp to replace my big ol' clunky Petzl that used those monster flat pack batteries. I was hesitant going to LED because I knew some of them couldn't really throw a beam very far. This is not one of those headlamps! Good strong beam that really cuts through the darkness. The pivoting lamp was a must for me, and Princeton has done it well on this model. Nice design with a tool-less battery cover that makes it easy to replace batteries on the go. On/off button is a little stiff and a bit cumbersome if you're wearing heavier gloves, but at least it won't accidentally get turned on in your pack. Was so happy with this headlamp, I bought more to outfit the entire family!

Verified Buyer

Reviewed by just me from California on Friday, October 10, 2014

I own another one that has lasted at least 5 years. Indestructible. Simple to operate.

Verified Buyer

Reviewed by silverado pine ranch from wisconsin on Monday, September 15, 2014

perfect invention for a camper in the desert! Love the options.

Verified Buyer

Reviewed by Sheldon from Colorado on Friday, June 6, 2014

For $25 on a deal flyer I don't think you can find a better light. Light output is awesome. Battery life seems great. A touch on the heavy/bulky side but I quickly forgot about it after wearing it for an hour. I was used to small cheaper headlamps. Being water resistant makes the button a little firm to push and cycle through settings but not a problem. In the immortal words of Lloyd, "I like it a lot".