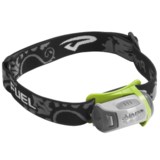 Closeouts. The compact Princeton Tec Fuel LED headlamp lights the way with three ultrabright LEDs and offers three brightness settings.
Average Rating based on
456
reviews
4.302631
0
5
Reviewed by wilburwalker from boulder, co on Monday, March 17, 2014

I have an early model Princeton Tec headlamp which I still use and like very much; its battery case was opened via an intuitive and easy to use barrel screw. I bought this model so I could keep one HL in my pack and one in the car. This HL is just as satisfactory as the earlier model except for the latch of the battery case opening which is not all intuitive. I had to read the directions in order to initially install the batteries and recall it still being a struggle. Over a year later, in the field, lacking and not remembering the instructions, I managed to break the battery case latch while trying to open it, rendering the headlamp useless.

Reviewed by Nighttime Rambler from Virginia Piedmont on Thursday, February 27, 2014

This is the second of these that I have purchased. The first one has been great for walking my dogs in the dark, and I do mean deep woods, no lights, dark. I wanted a second one to keep in my car, just in case. The fact that it was so inexpensive as well as reliable and comfortable was icing on the cake.

Reviewed by baller80 from Iowa on Wednesday, February 19, 2014

Nice and bright and comfortable to wear. A must for any hiker

Reviewed by JonnyRingo from California on Friday, February 14, 2014

As others have said, the plastic construction is pretty weak. I have purchased two of these and each broke at the battery compartment from a 3-4 foot drop. I really enjoyed them when they were functional, but they are too delicate to be dependable when it counts. I won't be purchasing a third.


Reviewed by Bsb from Ithaca on Wednesday, February 12, 2014

This headlamp broke when I was opening it to install the batteries (broke the plastic with my thumb). Very poor quality.

Reviewed by scout dad from california on Thursday, February 6, 2014

cant beat this headlamp for the price I paid. good lighting. appears to be well constructed. I camp and backpack with my son and scouts. Worked well on my eight day sierra trip

Reviewed by Paintrock from Wyoming on Friday, January 24, 2014

Works great. Don't like the strobe feature but I guess it might come in handy if it were needed for emergency purposes.

Reviewed by Dev from Montana on Thursday, January 23, 2014

I have always had success with Princeton Tec lights. This one is another solid, small, lightweight light with decent output and battery life. It will suit my needs well as a stashable, frequent use headlamp for my wife.

Reviewed by McLichen the Mountains from Teton Valley on Wednesday, January 22, 2014

Light, bright, compact, and I think I want a set in every back-pack I have. A great deal.

Reviewed by PDSBAN from Massachusetts on Wednesday, January 22, 2014

Broke when I opened it to put the batteries in.

Reviewed by Scott from Norwich,CT on Friday, January 17, 2014

Headlamp fell 3ft from a table and the bottom of the battery compartment snapped off. So much for that lamp.

Reviewed by inpa from pa on Monday, January 13, 2014

Excellent lamp with adjustable light for all purposes.

Reviewed by Trail Runner from PA on Tuesday, January 7, 2014

I already owned this headlamp and bought another because of the great value and performance of the headlamp I already owned. The only thing I would recommend is it to take the batteries out between uses if you are only going to use it every so often.

Reviewed by The Joel from Utah on Monday, December 30, 2013

Have not used it much. Other reviewers have complained about problems getting batteries in and breaking the battery cover. The batteries slid in and out easily. I could see how the battory cover could break if you were rough with it. If the headstrap adjuster is used to open the cover as shown in the instructions, the cap pops open just fine and quite gently.

I have used the lamp a couple times out in the yard and it is quite a bit brighter the my 10 year old petzl lamp...but I guess that is to be expected.

Reviewed by Phil from Taos on Sunday, December 29, 2013

Very nice headlamp, 3 bulbs, multiple settings, comfortable stretchy strap.

Reviewed by ByronSpace from Carmel, IN on Tuesday, December 24, 2013

So far the light has worked great for the work around the house and in the crawl space. I am looking forward to running with and trying it.

Reviewed by Gamecock from Charlotte on Tuesday, December 24, 2013

This thing is great! It lights up my whole back yard. Be careful opening the battery compartment though. I broke off the clasp piece first time. Nothing a good redneck couldn't fix with duct tape.

Reviewed by tuna4me from California on Monday, December 23, 2013

Great small, lightweight, headlamp

Lot's of light at a great price.

Will be using it for fishing in my float tube.

Reviewed by Justin from Southern Maryland on Monday, December 23, 2013

I wear this light while setting duck decoys in the dark. It is super bright and fits snug and comfortable over a hat or under a hat. The only thing I can't attest to is the battery life. Other than that this is the best head light I own out of about 15 of them.

Reviewed by Outbackwack from Boston on Saturday, December 21, 2013

I bought several of these to give out as gifts and carry in the car, etc. Overall it's a very good headlamp. It's comfortable, easy to use, bright, comes with batteries (3 AAA) and seems to last a good time on them. I have a couple others that are lighter with more options, but this does a very good job. Personally, I wish the low light setting would be dimmer and that's why I knocked a star off. This would also get more time out of the batteries. I would definitely buy it again, however.

Reviewed by Earthwatch volunteer from Oregon on Monday, December 16, 2013

Somewhat heavy but effective

Reviewed by Dan on the bike from Des Moines, The Paris of Central Iowa on Monday, December 9, 2013

I think that this is a good headlamp and a great value. My wife and I each have one, and we bought this one for a son whose pricey headlamp broke.

Reviewed by Mountain Man Mark from Colorado on Wednesday, December 4, 2013

This is great product from a great company

Reviewed by FlyFisher1 from Bend, OR on Wednesday, November 27, 2013

I'm not sure why most users would need a more expensive headlamp... While our uses are generally "domestic", so to speak, rather than braving the wilds, this little headlamp works quite well, is lightweight, lasts quite a while on a set of batteries and produces plenty of light. It has bailed me out several times when coming off a river after dark with a long, forrested hike back to the car. I have always found it to be easy to use in every way with no problems of any kind. Highly recommended.

Reviewed by Ming gui from china on Wednesday, November 20, 2013

Very practical, cheap, goods complete


Reviewed by ramzi from Oregon on Friday, November 1, 2013

Love it, 4 great settings. Only wish is that it had red light.

Reviewed by Julia from Colorado on Thursday, October 31, 2013

.

Reviewed by HikerBiker from Kalamazoo, MI on Tuesday, October 22, 2013

Can only comment on appearance and fit at this point. This is my first light but I found the light to be well made, comfortable to wear and light weight. The light seems to throw an adequate amount of light but i haven't tested it yet.

Reviewed by Mads from CO on Tuesday, October 22, 2013

The headlight itself is great. The battery chamber is really difficult to get into though and made of brittle plastic. I broke it the second time opening it (the first time was to load the batteries). Since then it has pretty much been useless for me unless I tape around the outside with fresh athletic tape...bright light though.

Reviewed by BW from Colorado on Thursday, October 17, 2013

Very bright, very easy to use, very affordable!