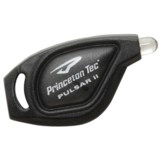 Closeouts. With an ultra-bright LED bulb that illuminates up to 10 meters, the Princeton Tec Pulsar II key chain light makes a great addition to your key chain.
Average Rating based on
124
reviews
4.040322
0
5
Verified Buyer

Reviewed by Aaron from Arkansas on Friday, August 11, 2017

Didn't work out of the package. Popped it open to make sure there wasn't a plastic strip on the battery that needed to be pulled off. This item is as cheaply made as was possible. It's pitiful that Princeton Tec would put their name on it. More of an item you would usually receive for free at a conference.

Verified Buyer

Reviewed by dand76 from Washington on Tuesday, December 22, 2015

Small, lightweight, durable

Verified Buyer

Reviewed by owlgrabber from Oregon on Thursday, December 17, 2015

Just what I needed to find keyholes in the dark. And at a terrific price!

Verified Buyer

Reviewed by Nori from Bannack, Montana on Tuesday, December 1, 2015

I have three that I've kept on keychains for several years -- just ordered three more for my kids. Use them for about 30 seconds once every few months -- but when I need to use it, I REALLY need it to work right, and these definitely do! Compact, weightless, functional light. Perfect for its niche!

Verified Buyer

Reviewed by Bcville from Virginia on Monday, November 16, 2015

I have bought 5 of these, and as the days get darker I might get some more.
They are small even for keychain lights. I have one clipped on my messenger bag, so when I cant see steps or a path I can just reach down and click it on. Plenty of light for that.
It isnt a substitute for a flashlight, but it's a great substitute for darkness.


Verified Buyer

Reviewed by Philip from Upper Midwest on Sunday, October 11, 2015

Small, light. Sufficient light for close work. Switch frees up hands.

Verified Buyer

Reviewed by Steamboat Bill from Georgia on Thursday, October 8, 2015

Great to hang on a keychain. Tiny but throws a beam wide enough to light your path. It is practically impossible to attach the small key ring it comes with. I had to use a larger key ring.

Reviewed by Brown County Bob from Indianapolis on Saturday, September 12, 2015

I ordered two of these. First one works like a champ. The light is very small, but has a bright light. I tried the second one and the light was quite dim - not even half as bright as the first one. So I opened the second one to see what type of batteries are used in case I wanted to replace them. The batteries are very thin. I tried to reassemble the light case. Forget about it. The light either did not turn on, or turned on and would not shut off. I contacted S TP customer service and suggested they just send me a replacement, since the sales price was very low and it did not make sense to return. STP agreed and is sending me a new one at no charge. Thanks STP! Just hope the second one works and is bright. Also, forget trying to put the small ring on. I had several larger ones and was able to attach one to the light.

Reviewed by En-lighten-er from Chicago on Saturday, July 18, 2015

Switch makes the difference compared to same design without switch. I give them to friends and before I give it to them I slide a small slotted screwdriver into the tiny key chain, spread the ring wide enough to slip the flashlight onto it and work it onto the light. I also work the switch back and forth to get it working smoother for my friends. I have read some of the reviews and many people are challenged to affix the little ring onto the light, I say; use mechanical advantage.

Verified Buyer

Reviewed by Scent-free Natural from CA on Tuesday, June 9, 2015

the product description said there's an on and off switch. on one of the units we ordered, there was no switch. on the other unit, the switch didn't work. this is a tiny item and it takes patience and tools to get the key ring fastened onto the light. the product is made of hard plastic and requires hard hand pressure to activate the light; not comfortable to use.