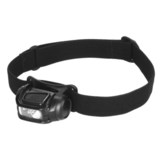 Closeouts. The Princeton Tec Remix Pro LED headlamp gives you four lighting options for maximum versatility. Plus, one small CR123 battery powers the headlamp, cutting down on weight and bulk for low-profile transport.
Average Rating based on
21
reviews
4.380952
0
5
Verified Buyer

Reviewed by Big Dan T from Georgia on Sunday, July 27, 2014

So far, I have used this on a electrical repair in a dark confined area. I find it works as advertised. Plenty of light for a small dark area.
The price was decent, ditto on the performance so far. I doubt it will illuminate anything at 240' as noted by the manufacturers specs.
Battery availability is not an issue around here.

Reviewed by WWIINut from West Chester, OH on Wednesday, June 18, 2014

I have used headlamps on and off for years but they have always been the cheaper ones using 3X AAA batteries. They always had dead batteries because the button was accidently turned on and then you have to replace three batteries. I finally gave up.

I thought I would try using a headlamp again and bought the Remix Pro. I just used it for three days/nights at cub scout camp and I cant be happier! The low setting is perfect for close work and the brighter single LED is super bright for seeing far distance while walking.

The on/off switch is nearly impossible to accidently turn on and it is great to be able to hold the button down to cycle through the levels/LED options.

If you are worried about the cost of the CR123 batteries, check out Ebay or do a search and you will find countless on-line stores selling them for $2 each or cheaper if you by in bulk.

Verified Buyer

Reviewed by Lynn from Chico, CA on Tuesday, May 27, 2014

I bought this headlamp for my husband and he used it on our recent backpacking trip in the Trinity Alps....not only is it smaller and lighter than my more expensive Petzel light it is much brighter. We haven't used it enough to comment on battery life and I'm not sure how hard the batteries will be to find since they are specialized but so far so good.

Verified Buyer

Reviewed by Bones from Hawaii on Wednesday, May 7, 2014

Good light, compact and bright

Reviewed by Big Johnson from Colorado on Tuesday, January 21, 2014

I've purchased two of these excellent headlamps now, one for my ski patrol vest and one for my xc ski/hiking rucksack. Plenty of bright illumination in the high mode for mountain rescue, night xc skiing, and hiking. The batteries seem to last forever in the low and medium settings for around camp and in the huts.
The CR123 batteries are more expensive than AA or AAA batts but work well in the cold.

Reviewed by Tim from Ohio on Monday, January 6, 2014

I purchased the tan model and I really like it. I am already using CR123a batteries for gun lights/lasers. A good thing to think about is how you will be using it. The other lights use AAA batteries and I would recommend lithium in that case. Also, if you are using these around people, you can easily irritate others by ruining their night vision. For that reason, the red secondary led light on some of the other lights would be good.

I purchased a roll of red automotive tail light repair tape and put on part of my LEDs. It works well and I can tear off if I need to. The red also protects your own night vision. It is surprising, how little light you really need sometimes.

The CR123a Titanium brand batteries are available at BatteryJunction.com, for $1.00 each plus shipping. I have been using that brand for 10 years. Also Amazon has Streamlight brand for about $18.99 shipped for twelve of them.

Reviewed by Trout hunter from Nor Cal on Monday, November 18, 2013

Very great product. I own four Princeton tech products. Very well built, lightweight, durable products. The best part is they are made here and cost the same if not less than a cheap foreign product. I recommend all of Princeton tech products. Worth every penny.

Reviewed by Bnthr from Maryland on Wednesday, October 30, 2013

I have had more than a fair share of headlamps over the years and things evolve. I have not had many oppurtunities to use this lamp but so far I like this Ilamp it is far lighter than all my past lamps and its flexability meets all my requirements. I have used this lamp camping in Maine to working on the house and things in between.

Reviewed by Simon from New Zealand on Wednesday, April 24, 2013

Very bright. Battery add size. May be hard to get. Postage expensive to NZ

Reviewed by Gear junkie from Northern MN on Tuesday, April 16, 2013

I love Princeton tec headlamps but wasn't sure about the cr123 battery but i like it better the the triple a's.
The cr123 is lighter, smaller, brighter and cheaper when compared to 3 lithium AAA. I put glow in the dark paint on
the strap to make it easier to find since its all black.